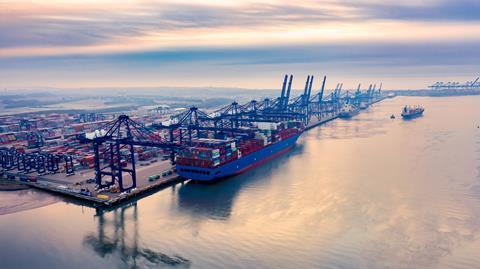 Strikes at the port of Felixstowe, combined with rail, postal and Amazon service disruption, are having a significant impact on deliveries, retailers and manufacturers, says the home delivery specialist ParcelHero, warning that the combined actions will increase costs for shoppers.
Faced with rising household energy costs and soaring inflation, workers at ports, railways, postal organisations and warehouses are staging strikes in a bid to improve their pay and working conditions.
ParcelHero warns the combined "perfect storm" of logistics-network strikes will impact on £1bn of trade and deliver a blow to shoppers, retailers and manufacturers alike.
"The triple whammy of industrial actions at ports, postal networks and e-commerce giants means serious disruption," says ParcelHero's head of consumer research, David Jinks. "The eight-day planned strike at the port of Felixstowe is likely to create a severe backlog. What many people won't realise is that it's the country's busiest port, handling about 48 per cent of the UK's container trade."
It is estimated that the port strike alone will disrupt trade worth up to £700m and impact on supplies to supermarkets and exports from now until Christmas, he says.
"The disruption created by the Felixstowe strike would be severe enough in isolation, but it's not happening in a vacuum," adds Jinks. "Several other industrial actions are taking place that will impact on deliveries using traditional postal services and e-commerce sites."
Post Office workers and Amazon warehouse employees are also taking strike action, he explains. Meanwhile rail strikes threaten to disrupt freight operations.
"There's one final straw facing the UK's largest retailers, manufacturers and supply chain organisations," he says. "Those companies using rail services face further disruption as a knock-on effect from UK passenger service strikes. As just one example, Tesco this year extended its ground-breaking, eco-friendly partnership with Direct Rail Services (DRS), taking thousands of lorry movements off the road. However, the ongoing rail strikes across much of the nation's railways will mean passenger trains are out of position, which could well lead to a disruption of some rail freight operations as train operating companies (TOCs) fight over available train paths.
"The combined result of this Summer of Discontent is likely to impact on £1bn-worth of trade at a conservative estimate. Deliveries will also be delayed and production lines could be brought to a halt."