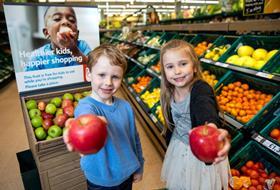 UK consumers are calling on supermarkets to offer more support in helping them choose healthy food that boosts their immune system, according to a recent survey.
With the nation under its third national lockdown as the new strain of Covid-19 spreads, a study commissioned by Spoon Guru, a London-based global AI food technology start-up, reveals that only 21 per cent believe supermarkets are currently making it easier for shoppers to locate healthy produce.
In response, 45 per cent of those surveyed are calling on supermarkets to help them eat more healthily, as many find it difficult to navigate healthy food options within the store, with 65 per cent claiming products aren't labelled clearly enough. Meanwhile 30 per cent say that online shopping makes it clearer and easier to identify nutrient-dense products.
The research found that consumers are also seeking support from the government, with more than half (56 per cent) urging the government to do more to educate consumers about how unhealthy eating can impact susceptibility to viruses and infections. While 67 per cent want the government and NHS to collaborate with the food industry to help consumers navigate healthy food options.
Since the outbreak of coronavirus, the survey unveiled that 66 per cent of Brits are now paying more attention to their health. More than 70 per cent of consumers surveyed revealed that they have specific requirements which they expect retailers to help them with – 30 per cent are seeking advice on allergy management; 27 per cent are wanting help with plant based diets; and 22 per cent are looking for obesity support (dieting programmes).
Despite the bid to pay more attention to their health, the findings reveal that only half (53 per cent) are supporting the notion of 'food being medicine' by strengthening their immune systems with fruit and veg. The top foods Brits are choosing to support their immunity are: citrus fruits (48 per cent), bananas (46 per cent). apples and stone fruits (42 per cent), tomatoes (41 per cent), fresh juices (39 per cent), nuts (38 per cent), salads (38 per cent) and grapes (33 per cent).
Dr Adrian Hodgson, chief health officer at Spoon Guru comments: "The challenge is finding the right foods and clearly retailers need to think of new innovative ways to influence the shopper journey. Shoppers need to see the foods that will help them fulfil a need such as immunity.
"It's reassuring that many Brits are eating more immune strengthening fruit and veg with a view to aiding their health, however, it's clear from our findings that they are missing a trick or two when it comes to wise diet choices. Fruit dominates the top ten immune supporting foods for Brits. Packed with fibre, vitamins, minerals and polyphenols fruit is essential for strong immunity. The difficult part is ensuring we all incorporate it into our diets through helpful, quick and easy recipes.
'Fruit juice - the nation's fifth favourite health product - can be a good way of getting some immune supporting nutrients, but should be consumed in smaller amounts to avoid overconsumption of free sugars. Shockingly fruit juice can contain just as much, if not more, sugar than a soft drink.'
Hodgson continues: "Our findings uncover that while 53 per cent of consumers know to choose certain foods to help support their immune system, there is a large proportion of people who do not. The challenge remains - how can we all select better foods such as plant based and whole foods (fruit, vegetables, fibre rich foods) to support a healthy immune system? With so much choice on the market, it really is a minefield out there, and with the current health crisis, consumers need more help than ever when it comes to navigating healthy food options. Spoon Guru's 'Immunity Support TAG' was built exactly with this in mind - our technology can safely process and classify hundreds of thousands of products to help shoppers in seconds, giving consumers up and down the country the peace of mind they need in these challenging times."
Spoon Guru's five retail hacks to nudge behaviour and help shape better choices for immune support are:
• Front of store merchandising of whole foods
• Shelf talker immune claim pull-out
• Goal-based shopper engagement through digital enablers like Healthy Swaps
• Curated content to nudge shoppers to make healthier choices (through print, on their websites and newsletters and via social media)
• Discount / rewards for buying immune supporting foods

Established in 2015, Spoon Guru is a London-based global AI nutrition technology start-up that has developed a Health & Wellness platform to cater for individuals with specific dietary food requirements or health objectives.
Spoon Guru combines AI and machine-learning with nutritional expertise to enable food retailers to deliver a highly personalised experience tailored to each consumer, based on their distinct and unique dietary, health and wellness needs.
The platform processes billions of data points on a daily basis and analyses every ingredient as well as its nutritional value to allocate the appropriate dietary tags to each product or recipe, enabling large and unstructured data sets to be easily searched and accurately filtered to deliver relevant choices.

Spoon Guru enables retailers such as Tesco in the UK, Albert Heijn in the Netherlands, and Woolworths in Australia and New Zealand to cater for shoppers' distinct and unique dietary needs – increasing the choice of foods available, whilst minimising the effort to find them.

Spoon Guru received a number of accolades including the Retail Week Customer Innovation Award for its partnership with Tesco, the Retail Technology Game Changer Award at the World Retail Awards, and the founders were presented with the Retail & E-Commerce Tech Founder of the Year at the 2018 BMW i UK Tech Founder Awards.