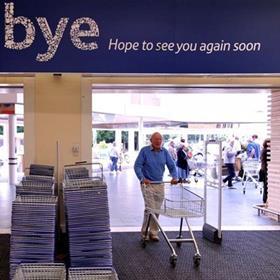 In-store visits at UK supermarkets have grown 6.5 per cent in the last four weeks ending 6 November 2021, equal to 28m more visits compared with the same period last year, as British shoppers embrace omnichannel shopping ahead of Christmas, reveals new data released today (16 November) by NielsenIQ.

Data from NielsenIQ also reveals that shoppers are embracing local and last-minute convenience as growth at convenience stores has grown by +2.1 per cent compared with the same period last year.

As a result of this shift back to in-store shopping, data from NielsenIQ reveals that the online share of sales has fallen to 12.2 per cent, down from 12.6 per cent in the previous four weeks. Whilst total online sales have declined 8.6 per cent (compared to -1.7 per cent at stores) this is primarily due to smaller online basket spend as shoppers no longer need to stock up. With the percentage of households shopping online every four weeks down only 3 per cent on this time last year, this shows that shoppers are sticking with online.

Whilst NielsenIQ data also reveals that total till grocery sales fell -2.0 per cent in the last four weeks ending 6 November, this was primarily due to high comparatives during the same period last year, when shoppers stocked up ahead of the second lockdown that began on 4 November 2020. When compared with pre-covid figures in 2019, sales increased +4.9 per cent implying that consumer spending has still not yet completely shifted back to hospitality and leisure.

In terms of retailer performance over the last 12 weeks, Aldi (7.9%) and Lidl (10.3%) experienced strong growth helped by new store openings in addition to shoppers beginning to 'shop around'. Marks & Spencer (9.1%) also experienced healthy growth indicating that shoppers are also looking for special treats and indulgences ahead of the festive season.

Mike Watkins, NielsenIQ's UK Head of Retailer and Business Insight, said: "Across the industry the average spend per visit has increased for the first time since July, up to £18.60 as shoppers get back into a regular grocery shopping mindset. Shoppers are also returning to stores again and spending is expected to remain robust for the next six weeks with Christmas advertising campaigns now helping to boost the festive shopping momentum.
'Last year, Christmas was effectively cancelled, so this year we can expect shoppers to be spending far more than last year on festive food and drink, especially if they choose to economise by entertaining at home rather than eating out. This will no doubt support supermarket sales this Christmas, and at NielsenIQ, we anticipate that shoppers will spend a total of £33bn across the major supermarkets in Q4."