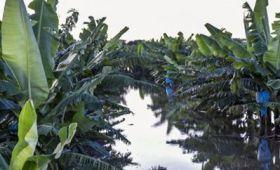 Produce suppliers have the chance to be featured in a new report by Lloyd's of London looking at the risks in the global food supply chain.
The report, coordinated by consultancy firm Moore Stephens, will be based on information gathered at three two-hour workshops with farmers, food producers, processors and retailers.
Through assessing the points of risk in the global supply chain, the report will look at whether it's possible to insure losses caused by unforeseen events including weather, pests, disease, fire, flood, contamination and storage failure.
Companies can sign up to take part in the relevant session where they will answer a series of questions about the risks involved in the sector, and their views on other industry issues.
The workshop also includes a free lunch and a tour of the iconic Lloyd's building in London.
"The benefits to companies taking part are that they can choose to be named in the report, and receive a copy. It will be distributed at various food industry stakeholder forums by Lloyd's," said Duncan Swift of Moore Stephens.
The first workshop will take place on 6 April and any interested companies should click here to apply through Moore Stephens.