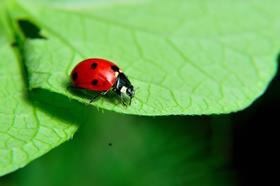 A deal signed by Syngenta and Bionema transfers intellectual property (IP) of two novel biological technologies to the large multinational organisation.
The move adds to Syngenta's growing portfolio of biologicals and secures Bionema's position as a world-leading bioprotection technology company, with a proven track record in developing sustainable, effective solutions to plant pests and diseases.
Bionema Ltd, a bioprotection technology company founded in 2012 by Dr Minshad Ansari at Swansea University, has divested two of its novel technologies to Syngenta for commercialisation.
• NemaTrident is a biopesticides solution product, incorporating a range of highly virulent insect-parasitic nematodes, which attack and destroy the larvae of insect pests before they can reach adulthood. The product range, which has been commercially available since 2017, includes Nemaspreader, a biocompatible wetting agent that helps the beneficial nematodes to spread and thrive and provides 20-30% higher efficacy than market products.
• UniSpore®G® is a next generation bioinsecticide containing insect-killing fungus, pending EU approval, this product will be used for the control of vine weevil once it is commercially available (expected in 2023).
Both products were devised and developed, by Bionema prior to the acquisition deal by Syngenta.
Dr Minshad Ansari, Founder and CEO of Bionema, said: "We developed these technologies and we are proud of our achievements, but our focus is on innovation and the discovery of unique solutions to fill the gaps in the market for immediate use, so we are pleased to hand these products over to Syngenta now, so they can be commercialised and marketed globally, enabling a broader international reach and providing sustainable solutions."
Testament to Syngenta's faith in Bionema as leading bioprotection developers, alongside the technology acquisition, the multinational company has provided the biotech with a three-year service contract, signalling a strong willingness for further collaborations in the future, said Dr Ansari.
"The development of formulations and delivery systems for pest management in sustainable agriculture and public health are the current focus of Bionema research," said Dr Sarah Harding, head of global innovation.
Bionema will continue to innovate and develop new technologies for the biocontrol sector. Ongoing work includes several independent projects, and those being performed with various research institutions and private companies.
Bionema Ltd is a leading bioprotection technology developer, specialising in chemical-free, biological crop protection for safe and sustainable pest and disease control. The company manufactures and commercializes its own range of biocontrol products and provides training and consultancy services aimed at optimising biological approaches to pest control. Our research is focused on the development and commercialisation of naturally occurring microorganisms to protect crops from pests and disease while reducing the use of synthetic pesticides, minimizing the environmental impact, and increasing crop yields.
Bioprotectants (still known as 'biopesticides' in some parts of the world) are the natural alternative to toxic chemicals - plants, nematodes, bacteria, fungi, and minerals for the control of insect pests. Used as part of an integrated pest management (IPM) programme, bioprotectants can offer non-toxic solutions that are at least as affective as chemical pesticides. Bioprotectants do not pollute the environment, they decompose rapidly, and can be targeted at specific pests to avoid harming beneficial insects or polluting the environment.