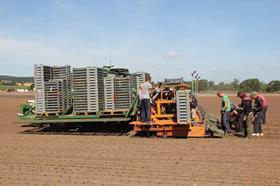 The Gangmasters & Labour Abuse Authority (GLAA) has introduced a temporary licensing scheme to ensure critical food supply sectors are able to run as smoothly as possible during the coronavirus outbreak.
Temporary licences for food production will be granted to businesses operating within the wider labour supply industry and who wish to support labour providers who currently hold GLAA licences.
Applications must be sponsored by an existing GLAA licence holder, who is expected to carry out due diligence checks in line with the authority's licensing standards.
The GLAA said decisions will be made on a case-by-case basis, adding that all applications will undergo rigorous risk-based checks, but it will aim to make decisions within five working days.
Temporary licences will be issued for a period lasting up to three months, unless the coronavirus situation changes, and there are currently no plans to impose an application or inspection fee for this scheme.
If temporary licence holders wish to supply workers for a longer period, they must complete the licence application form and pay the application fee before the end of the three months.
Certain activities are also excluded from needing a GLAA licence. This includes cases where a labour provider transfers their workers to another employer at no cost because there is no work for them.
GLAA head of regulation Nicola Ray said: "These are unprecedented times for us all and it is important that we recognise the need for greater flexibility in food processing and packaging while at the same time maintaining our core commitment to protect vulnerable and exploited workers.
"We realise this is a very difficult time for businesses. We are determined to support those who follow our licensing standards and have done so ever since they became licence holders. We will do all we can to help legitimate businesses as they continue to provide goods and services this country relies on.
"Labour providers are expected to continue to fully comply with our licensing standards during this period. We will investigate anyone who attempts to circumvent our licensing scheme and will not hesitate to revoke licences or prosecute businesses for unlicensed trading.
"It is important to stress that there will be a zero-tolerance approach to anyone we find attempting to profit from exploiting vulnerable workers at this challenging time. Where we find examples of this, we will act swiftly and decisively to put a stop to it."
The announcement received a warm reaction from the fresh produce industry. Shayne Tyler, group compliance director at Fresca Group, said: "This is a welcome step from the GLAA at a time of significant stress for our industry as it works hard to feed the nation.
"We are pleased that the workers will continue to be employed under the current regulations and urge labour users to be extra vigilant in monitoring the welfare of their workers. Furthermore, we encourage workers new to our industry to raise concerns at the earliest opportunity."