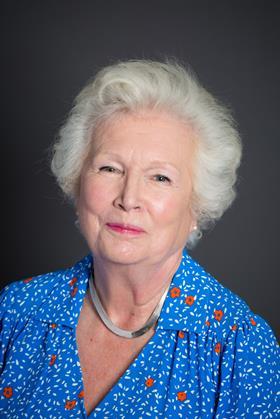 Teresa Wickham, produce doyenne and retail phenomenon, is the archetypal pioneer. From her kitchen table in 1979, she 'declared war' on French apples and co-founded the Women's Farming Union, which ran a groundbreaking campaign to revitalise the UK fruit industry.
By 1990, she was the first woman divisional director of UK retailer Safeway, where she initiated the Strathclyde Food Project, bringing together growers and retailers to close the UK's trade gap. Soon after, she became an adviser to Sainsbury's on its £1 billion corporate responsibility programme.
Since then, she has held numerous roles managing and developing areas of business, primarily in food, agriculture and the retail industry, including governor of the Royal Agricultural College, chairman of the Oxford Farming Conference and non-executive director of New Covent Garden Market Authority. All culminating in the 'Woman of the Decade in Food Farming and Innovation' accolade, awarded in India by the Women's Economic Forum in 2018.
Today, though no longer consulting – and in her 70s – Wickham continues to energise and influence the industry as president of the National Fruit Show (NFS), a member of the Harvard PAPSAC Committee, and as a regular broadcaster for the BBC on retail and consumer issues.
Apple war
Wickham's trailblazing, and prolific, journey in produce began when she married Kent fruit farmer Robin, at 21 – having trained as a Cordon Bleu cook and just embarked on a teaching career at Le Cordon Bleu London. The transition to rural life near Tunbridge Wells in the late 1960s was nonetheless an easy one for the adaptable young Wickham, the second eldest of nine children to entrepreneurial parents.
"It was wonderful," she enthuses. "My husband worked for his father, growing every soft fruit and topfruit under the sun. My mother-in-law was Swedish and a fabulous horticulturalist. I worked on the farm and ran a 100-strong fruit-picking team. It was idyllic, and my in-laws were hugely supportive."
Women typically worked behind the scenes in English farming at that time, so when, a decade later in 1979, Wickham and two female fruit-grower friends, Anne Humphreys and Margaret Charrington, co-founded the Women's Farming Union and rallied mass protests in London and Brussels against French apple imports, they hit national headlines.
"The UK had just joined the European Common Market (or EEC) and British apple growers hadn't realised what impact that would have, and were under threat," Wickham explains. The large and well-organised French grower cooperatives could now send their fruit to the UK without quotas, and Britain's burgeoning supermarket sector was delighted to be able to procure such large volumes of homogenous fruit, she says. The smaller-scale British growers, on the other hand, weren't "up on" quality control so needed time to adjust, and were convinced that French growers were getting financial help from their government, which under EEC rules was illegal.
Protest movement
"Sitting at my kitchen table one day, Anne, Margaret and I decided to launch a full-scale campaign fighting French apples," she recalls. "We gathered evidence that the French apple growers were indeed cheating and presented it to the MEPs; we set up a consumer campaign promoting British apples; we implemented two surveillance schemes – one at wholesale and one at retail level – where we recruited grower and consumer volunteers to monitor and report back on the quality and availability of British apples; and we organised [Women's Farming Union] protests.
"Margaret was brilliant on TV, Anne had the ideas, and I led the demos," Wickham adds with delightful nonchalance. "It was the early 1980s and people weren't used to seeing farmers' wives demonstrating, so we made The Nine O'Clock News and Not The Nine O'Clock News. We'd joke that, at school, my children would often say 'Mummy can't pick us up today because she's protesting!'"
The trio's apple campaign attracted women from other farming sectors and developed into a whole-scale movement involving some 3,000 members. "In the end, the entire produce industry pulled together," says Wickham. "We were all concerned for our husbands' livelihoods and our children's future. We were fighting for our sector's survival."
From crisis comes opportunity
Forty-two years later, and UK growers are once again in the throes of an existential crisis, wrestling the dark triad of Brexit-induced labour shortages, supermarket price deflation and rising production costs. Could this be the end of the road for British fruit growers? Wickham thinks not.
"Things are very challenging for people now and I'm not certain the government really appreciates the effect of the worker shortage," she says. "But I see huge opportunities for the horticulture sector thanks to the huge public and private sector focus on getting the population to eat more fruit and veg."
In her view, the produce sector needs to seize this chance and secure its future through greater industry cooperation, collaboration and communication. "The British fruit industry has still failed to build a brand, and a brand adds huge value," she says. "We tried to get the 'Kingdom' fruit brand going in the 1980s, but we failed. Growers need to really understand the market, which products work and why, and who their real consumer is."
Growers must also connect more with the end consumer, to engage them, Wickham continues. "They've got to find a message that consumers feel strongly about, and they've got to get the consumer to understand the value of their fruit and veg without lecturing them," she says. "The difference from 42 years ago is the impact of the digital age and the opportunities this presents for direct grower-to-consumer communication."
The produce sector is still too siloed, Wickham adds. "You've got ADHB, BAPL, National Fruit Show, British Summer Fruits. But they should all be working together to raise the profile of all UK produce," she says.
Bright future
"I think there are huge challenges, but agritech will help both with sustainable production and hopefully the labour problem, so the sector does have a good future."
Wickham is buoyed by the sight of a new generation of bright young people joining the industry via multiple routes, and says she feels tremendous pride that, today, women hold some of the top jobs in British agriculture – Defra minister Victoria Prentis, NFU president Minette Batters and BAPL chair Ali Capper to name three.
"I think it's amazing," she says. "It's great to see what they are doing. Women offer a different perspective and are very good at juggling. It's in their nature."
Although she gave up her consultancy business three years ago, Wickham continues to multi-task. In between her NFS stewardship and BBC commentating, she mentors small food business owners, is an active member of agri-business thinktank the Rural Policy Group, and is writing a book for her grandchildren on her apple-war years.
"My focus is helping the next generation," she says. "I don't think you ever retire in this industry. You just do what you want to do rather than what you have to do. My job now is opening doors for people."