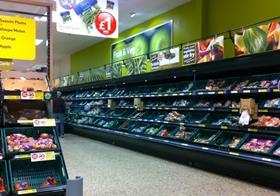 Tesco has now removed more than one and a half billion pieces of plastic from its UK business since it launched its 4Rs – Remove, Reduce, Re-use, Recycle - packaging strategy.
In the last 12 months, 500 million more pieces of unnecessary plastic have been identified and removed, with the most recent annual savings focused on replacing plastic forks in salad and rice bowls with wooden alternatives, and work on chicken trays and straws.
Tesco's 4Rs packaging strategy aims to remove plastic where it can, reduce where it can't, reuse more and recycle what's left. Since it was launched it has removed millions of plastic punnets from products such as peaches, plums and tomatoes, as well as focusing on a wide range of other products across the store.
Tesco quality director Sarah Bradbury said: "We all have a responsibility to take care of our planet and removing unnecessary plastic is an important way that Tesco can reduce its environmental impact. While we are proud of this achievement, we know we have more to do and our work to tackle the impact of plastic waste will continue in 2022 and beyond."
Tesco said it initiated action by giving its suppliers a list of preferred materials that are easier to recycle and stated that it reserves the right to no longer stock products in excessive packaging or hard-to-recycle materials. It added that it then supported its suppliers to develop more sustainable packaging solutions.
It is also looking to improve reuse options available to customers. In September last year, in partnership with Loop, Tesco began trialling a range of food, drink, household and beauty products in reusable packaging. Customers in 10 large Tesco stores can now buy products in packaging that can be returned to store when finished so it can be cleaned, refilled and used again.