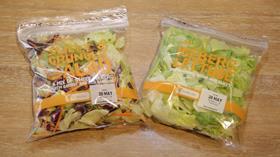 Tesco has launched new re-sealable prepared salad bags to help consumers cut food waste in the home.
It follows new research by Tesco that showed that bagged salad is still one of the UK's most wasted foods by household, with shoppers binning around 37,000 tonnes a year.
Part of Tesco's 'No Time For Food Waste' campaign, the new bag features a sliding zip lock and packaging made from thicker film to help protect the leaves for longer.
Tesco produce buyer manager Adam Hill: "Over the last two years we've been working with our growers to develop new packaging which allows customers to return to their bags of salad over a number of days with very little hassle or fuss.
"We know many shoppers roll up their bagged salads after using them once and stick them at the back of their fridges where they are forgotten for days or even weeks.
Tesco's new research found that:
· Shoppers do not always buy bagged salads with a meal in mind which can lead to them being forgotten purchases
· Current bags are not strong enough to protect leaves and do not seal so salads tend to spill out in the fridge
· Shoppers believe that air going into a bag once its opened is "bad air" and want a way to stop this occurring
The resealable bags were welcomed by food waste NGO Wrap, and business programme director, Steve Creed, said: "We commend Tesco for introducing a new resealable packaging format for their pre-prepared salads which will help in the fight to reduce household food waste.
"At present, nearly 40 per cent of lettuce and leafy salads bought by householders end up being thrown away in the home."
The new Tesco bagged salad range includes babyleaf spinach 240g, £1.50; iceberg lettuce 260g, £1; sweet and crunchy 370g, £1; babyleaf salad 140g, £1.50.