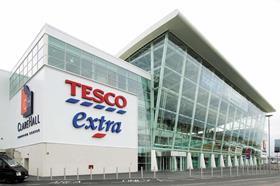 Tesco has teamed up with food redistribution Olio app to cut waste, with the coronavirus crisis causing a surge in demand for food charities.
The app uses volunteers to collect surplus food nearing its sell by date, which is then re-distributed for free to households and community groups.
It was founded in 2015 by Tessa Clarke and Saasha Celestial-One.
According to The Guardian, Tesco is rolling out the scheme to all of its 2,700 UK stores, with Olio's 8,000 volunteers collecting surplus food from the supermarket.
It's the first partnership Olio have struck with a major retailer, and follows Tesco's current work with food redistribution charity FareShare.
Tesco's head of communities, Claire de Silva said: "We are very proud of our food waste work and our scheme with FareShare helps thousands of charities every week.
"We want to make sure that any surplus food is being managed and people who need it have access to it.The results of our trial have allowed us to roll out the partnership in our commitment to make sure no good food goes to waste."
The move comes after a successful trial between the two this year, held at 250 Tesco stores with the most fresh produce items.
During the trial 36 tonnes of food was saved, with products listed on the app given away within one hour.