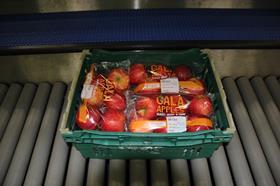 Tesco has redesigned its top fruit packaging as part of a move to phase out polybags bags across its fresh produce ranges.
The first bags of flow-wrapped Gala apples were packed at grower Adrian Scripps' last week, and launched at Tesco Express stores before a planned roll-out into main stores.
The new packaging holds packs of six Gala apples in a primarily clear flow-wrapped pack, with a colourful new design on the front. Other pack sizes will also be available with the new design.
Tesco technical manager John Worth said the new packaging is a fundamental change, which has been customer-led.
"We've redesigned the whole top fruit range with a new pack design, and we are phasing plastic bags out across the whole fresh produce range, after comprehensive customer feedback," he said.
Adrian Scripps managing director, James Simpson, said the top fruit industry could take some lessons from the vegetable category, which has developed to flow-wrap produce at the point of harvest from an in-field rig.
"I want flow-wrapping to become standard, not just on premium lines. The presentation is fantastic," said Simpson.