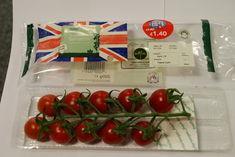 Tesco is trialling new packaging that could be revolutionary in keeping fruit and vegetables fresh for longer.
The new system uses a strip coated with a natural product to absorb ethylene, the hormone that causes produce to ripen and turn mouldy.
Initially, tomato and avocado will be sold with the new packaging because they are most commonly wasted.
Trials suggest the device could be used across a wide range of fruit and vegetables with no added cost to shoppers.
Tesco ambient salad and avocado technologist Steve Deeble said trails in storage show signs that this could be one of the most significant developments in packaging for many years.
"The packaging is a major breakthrough in the fight to combat food waste and could save the fresh produce industry tens of millions of pounds each year," he said.
"But it will also mean that shoppers will be able to keep fruit and vegetables for longer without feeling pressured to eat them within days of buying them."
Tesco estimates the new packaging could lead to a potential wastage saving of 1.6 million packs of tomatoes and 350,000 packs of avocados.
The ethylene-absorbing strip, which sits inside the packaging, measures just 8cm by 4.5cm and will not affect its recyclability.
Developed in the UK by It's Fresh Ltd, it is safe and said to be 100 times more effective than any similar existing materials.
Steve Deeble added: "If the trials prove to be a success then we could start rolling out the packaging by Easter."