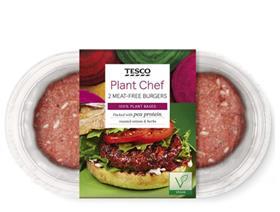 Tesco has launched a new range of affordable plant-based vegan foods as part of its pledge to increase its vegan offering.
The Plant Chef range includes plant-based alternatives to traditional meals such as breaded goujons made with soya protein, battered fish made from seasoned soya coated in tempura batter; dairy-free mac n' cheese with cauliflower, butternut and an oat milk sauce.
The range will initially be available in the meat aisle in more than 450 large stores, before being expanded into the prepared fresh food aisle of nearly 900 stores in mid-October and into frozen and grocery in January 2020.
Tesco also plans to launch dedicated plant-based and vegetarian zones in stores for the first time, as part of its commitment to provide the widest a best range of plant-based options available on the UK high street.
Two years ago, the retailer partnered with vegan chef, Derek Sarno, to launch Wicked Kitchen – the first own-brand plant-based food range to be launched by a UK supermarket.
"The biggest impact we can make as individuals, for our health but also that of the planet, is to eat more plants," Sarno said.
"We've turbo-charged our innovative original Wicked Kitchen snacks and meals. For those looking for everyday delicious meal swaps, we're launching the exciting Tesco Plant Chef range."