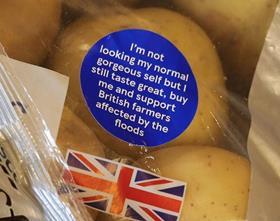 Tesco will use put blue stickers on bags of potatoes affected by heavy flooding in East of England to support farmers who have struggled to meet crop specifications this year.
Potato growers for Branston, who exclusively supply Tesco's fresh potatoes, have battled the worst flooding since 2012 during the key trading time of year, with yield down and appearance affected.
With growers in Lincolnshire and Norfolk the worst hit, from this week Tesco will sell packs of potatoes grown in those areas that carry a special blue sticker highlighting the recent flooding.
The sticker reads:"I'm not looking my gorgeous normal self but I still taste great. Buy me and support British farmers affected by the floods."
It comes after Tesco relaxed its specifications for its potato stocks to help farmers offload more of their crop.
Tesco potato buyer Ben Rowbotham said: "In order to support our British growers in Eastern regions, we have worked collaboratively with Branston to ensure farmers are supported and customers are not facing a shortfall at this key time.
"In Norfolk and Lincolnshire in particular, harvesting conditions have been extremely challenging and growers have worked hard to get as much crop out of the ground as possible.
"This means that some of ourpremium qualityFinestrange potatoes won't look as bright as they normally do.However, they will still taste great and we want to make sure that customers realise quality is more than just skin deep."
It's the second year in a row that potato farmers have been hit by horrendous weather conditions after last year's freezing spell, dubbed the "Beast from the East", gave way to drought conditions in the summer.
Branston commercial director Richard Clark said: "Usually great for potato-growing, these are the regions where we source most of ourpremium varieties.
"This autumn's waterlogged fields have prevented or delayed harvesting. In some cases up to half the crop has been lost and we are still trying to harvest the remaining 20 per cent of our tonnages."
FPJ earlier reported on the difficulties faced by potato growers, with growers struggling to lift potatoes in quagmire conditions.