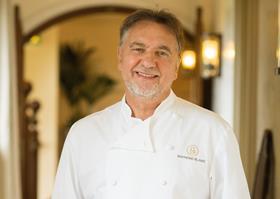 The use of brand and campaign ambassadors, including chefs and sports stars, has become a popular marketing strategy in recent years. Why do you think this is?
Finding a well-known personality with a high media draw to endorse a brand has definitely become more popular. British Apples and Pears has teamed up with numerous personalities over the years, including recently partnering with renowned celebrity chef Raymond Blanc to launch the 2020 British Apples and Pears Start of Season.
The name recognition and media appeal of personalities helps enhance attention, target specific audiences and strengthen awareness. However, it's not just about celebrities; we are also using expert nutritionists in our campaigns to bring added credibility and evidence to our health messaging. Whether it's chefs, sports stars or nutritionists, it's critical ambassadors truly align with the brand to gain maximum positive impact.
What should you look for in a brand ambassador?
There are a number of areas to consider when looking for a brand ambassador. The suggestions below are both what we look for and what we recommend others consider too:
- Media appeal: a brand ambassador should have previously featured or contributed to a range of top-tier broadcast, national and consumer publications.
- Social media presence: the ambassador should have a strong social media following to engage consumers across Instagram, Facebook and Twitter.
- Brand value alignment: they should align with our brand values and be passionate about the cause or message being conveyed
- Industry experience: the individual should be highly sought after due to their knowledge and professional experience, acting as a credible source for campaign messaging.
- Established or growing reputation and network: they should have an established or growing network of contacts and have developed a respectable reputation with both consumers and journalists.
What are the main dos and don'ts when choosing a suitable ambassador for your campaign?
It is important to ensure a brand ambassador has credibility and to carry out a thorough background check to confirm both their knowledge and expertise as well as to understand any potential conflicts of interest.
It's crucial this person can add something extra to a campaign. Our PR and social media agency, Spider, recommends conducting a media audit to see if the potential ambassador has had any negative press or controversial feedback.
It's also equally important to look at their social media following and posts, to ensure you are attracting attention and engagement from the right demographic for you.
How have ambassadors helped strengthen BAPL's past campaigns?
In terms of our own use of ambassadors, BAPL recently partnered with celebrity chef Raymond Blanc to promote the start of the 2020 season. Chef Blanc's years of experience in the industry, coupled with his passion for apples and buying British produce really helped kickstart our season launch, enabling us to better secure high-calibre broadcast opportunities and national press to boost our start-of-season awareness efforts.
Raymond Blanc's involvement helped us secure over 150 million 'opportunities to see' spanning across national, regional, consumer and trade media. What's more, social media posts featuring Raymond Blanc on BAPL's pages reached over 400,000people.The remarkable figures show the impact the right ambassador can have, strengthening our brand and message penetration.
To what extent are diversity and representation now important considerations in who you choose?
Diversity is a very important consideration and at BAPL, an organisation wanting to reach mass markets, we are careful to work with ambassadors who can help us reach as wide a demographic as possible.
What is more important – working with somebody with a high profile or choosing someone closely matched to your brand or campaign's ethos?
Ideally both, but it's really a non-starter for us if the brand ambassador doesn't feel passionate about apples and pears. Working with a high-profile person can be beneficial, appealing to a wide audience and demographic, but theymustalign with the messaging and ethos of the brand to be a genuine brand ambassador. Authenticity is key.
For instance, British Apples and Pears recently partnered with leading nutritionist Rob Hobson to promote its Happy Apple Plan, educating on the benefits ofeating an apple before a meal and how it can play a valuable part in weight loss. Rob Hobson is a high-profile nutritionist, with a strong media presence, but he is also a keen advocate for healthy eating and apples, so was a natural fit to champion this campaign. Qualified, well-known, passionate and engaged.
Some ambassadors I've come across in fresh produce I haven't heard of before. Is this necessarily a problem?
Not always, if a brand ambassador can offer their credentials, knowledge and experience to positively support a campaign, this may become more important than being 'well-known' with the media and the public.

Check out the upcoming issue of the Fresh Produce Journal magazine, our Veganuary Special, for an in-depth feature on the marketing opportunities offered by collaborating with brand ambassadors and social media influencers.