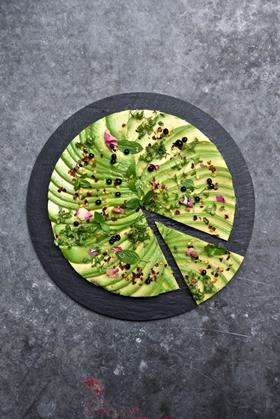 The rise of the avocado has transformed food fashions, health habits, everyday eating and the foodservice sector. Its success, though, must be observed in conjunction with the rise of social media, specifically Instagram, which has worked to catapult avocados into their ongoing reign as king of contemporary foods.
Photo courtesy of Colette Dike @fooddeco. Follow Fooddeco on Instagram
The health benefits of avocados are widely acknowledged and they have long been dubbed as a 'superfood'. Liza Zusman, of avocado-only restaurant Avocaderia, in New York, says that "social media has propelled avocado to the top of the list when it comes to health foods." She describes avocados as the perfect health food: "healthy… but also decadent. When you're eating avocado, you no longer have to choose between tasty and healthy."
"Veganism and vegetarianism have grown in popularity," says Lise Steegmans of the Avocado Show, another avocado-only eatery, this time in Amsterdam. "This has contributed to the use of vegetables and fruits in general," she continues. "Avocados are so appealing because they are versatile and lend themselves well to any meal of the day."
There's no doubt that people have become increasingly aware of the benefits of fresh produce via the internet and social media, but avocados go beyond this. Though they are used in all kinds of cooking the world over, the extent of the avocado success story lies largely on the plate of just one dish: avocado toast.
Widely credited as being the first to serve the dish in New York in 2006, Café Gitane has inspired literally millions of versions of their original avocado toast over the last decade, with peak popularity coinciding with the rise of Instagram. Celebrities, fashion bloggers and supermodels were soon seen snacking on the toast, and when they began sharing their menu choice on Instagram, the world was watching.
The Instagram handle @avocadotoast currently has 51,600 followers, and there are over 6.3 million posts with the hashtag #avocado. Avocado toast has become a staple of every Instagrammer's repertoire, and in 2013 when Gwyneth Paltrow added an avocado recipe in her cookbook 'It's All Good', it was confirmed that this was the new superfood in terms of both health and aesthetic.
"It's pretty crazy how Instagram has made avocado such a trendy fruit," says health and food blogger @diningwithdiana. "It's the perfect medium for marketing." As a result, food must now satisfy visually: the consumer is no longer just the person eating it, but all of that person's followers and potentially even more. What started as a simple slice of toast and mashed avocado, has become virtually a new cuisine, inspiring avocado burgers, milkshakes and chocolate – the list goes on.
Zusman describes how "customers almost always snap a photo of their dish before having that first bite" when visiting Avocaderia. These images are instantly shared to others around the world, and it's easy to see how this trend became viral so quickly. Now that suppliers have increased avocado production exponentially to respond to this demand, the question is whether the avocado craze is here to stay.
Certainly, for seasoned Instagrammers, posting pictures of avocado toast has become notoriously 'basic' (as is the new term when referring to such cliché and over-done pictures). There is still general optimisim about the sustainability of avocado, though. Steegmans says she believes "avocado is just getting started" and that "avocado toast is irreplaceable", while Zusman reiterates this: "avocado toast is so much more than just a trend."
What remains to be seen is whether a new food fashion could overtake the avocado toast phenomenon. One such trend might be the unicorn-rainbow toast that is increasingly seen in cafes around the world, which Zusman describes as interesting because it has "already had quite an impact on the foodservice sector – many companies are now producing powders and elixirs made especially to dye their foods."
Whatever happens, the crossover between food and visual social media is certainly here to stay.