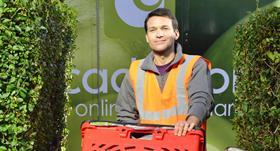 The days when supermarkets were simply traders of food and drink are long gone. Now, they run sophisticated IT systems and complex supply chains aimed at getting the freshest food to consumers as quickly and cheaply as possible, but Ocado is taking the retail game into a whole new stratosphere with its pioneering technology work.
The online grocer has caught the eye recently with its Ocado Smart Platform (OSP), which it describes as its "world-class suite of solutions for operating online grocery businesses". Disproving the theory that you jealously guard your best ideas, Ocado is instead generating significant income with its e-commerce platform, which combines proprietary end-to-end software systems with physical fulfilment assets. Put simply, it is licensing out Ocado's successful grocery delivery model for others to use.
In a busy past 12 months, three new grocers – Coles in Australia, Aeon in Japan and M&S, via a new joint venture – have signed up to use Ocado's solutions, joining major retailers including Kroger (US), ICA (Sweden) and Groupe Casino (France).
OSP is just the tip of the iceberg, however, and some analysts have gone as far as to suggest that Ocado could become Europe's answer to Google or Amazon. Indeed, the company's technological development is going into overdrive: it is working on driverless technology for deliveries, automated food preparation, vertical farming, soft-manipulation robotics – last year the company even proclaimed that it wanted to "turn the UK into a living lab and build a consortium to deliver radical innovation".
In a noteworthy indication of Ocado's future direction, in January the Competition & Markets Authority confirmed that it was de-designating Ocado as a retailer. In other words, the company is now free to operate as a technology provider, pushing the boundaries of automation and robotics, data science, AI, simulation modelling and smart optimisation as well as its core grocery supply functions.
Ocado's Technology division dubs itself a "serial innovator" and "industry disrupter", seeking to revolutionise the way people shop by giving them imaginative and greener alternatives to traditional grocery shopping. A further division, Office of the CTO, is focused on applications of Ocado's robotics and automation technology in industries beyond the grocery sector.
Ocado Group's share price has risen 357 per cent on the London Stock Exchange since November 2017 and it now has a market capitalisation of £8.2 billion. Supermarkets don't post those sort of growth figures in the ultra-competitive grocery market; further evidence that Ocado has transformed into something entirely new.