Veg handling equipment manufacturer Tong Engineering has bought conveying and lifting firm Terry Johnson Ltd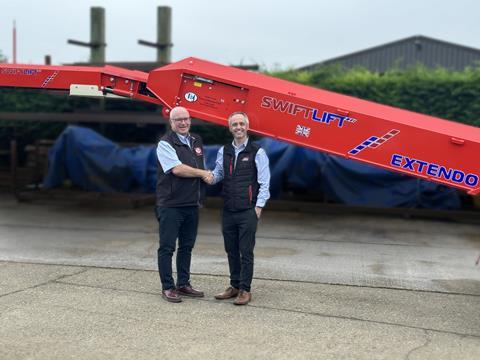 UK vegetable handling equipment manufacturer Tong Engineering has announced the completed acquisition of Terry Johnson Ltd – the company behind Swift Lift conveying and lifting machines – in Holbeach, Lincolnshire.
Tong said the acquisition is strongly aligned with company growth aspirations and is a natural progression for both businesses.
Established in 1986 by founder Terry Johnson, Terry Johnson Ltd initially set up business selling the Todd sugar beet cleaner loader and the Bettison range of wheel equipment. By 1987 the business employed the complete Johnson family including Terry's wife Betty, daughter Mandy and son Paul. In 1994 the company purchased both the factory and product range of the well-known Swift Lift range of elevators and conveyors.
Commenting on the purchase, Tong Engineering managing director Edward Tong said: "Tong Engineering and Terry Johnson Ltd have a long history of working together. We have always shared the same business values and my thanks go to the Johnson family for giving us the privilege of continuing their company's legacy and products.
"We are excited to welcome the Terry Johnson Ltd team to the Tong family and look forward to building upon the company's existing relationships with its customers and subcontract clients, as well as expanding the reach of Swift Lift equipment to new customers in the UK and overseas."
Edward Tong will assume managing director role of both businesses and current finance director at Tong Engineering, Teresa Morgan, will also expand her finance role across both businesses.
Tong Engineering sales manager Richard Knighton will will head-up the commercial and product side of the newly acquired business as general manager. Tong's dedicated aftersales division, TongAssist, will also build upon the aftersales offering across the Swift Lift range.
Of the acquisition, Paul Johnson said: "I am very pleased that we have been able to establish such a fitting future for our family business. I am confident Tong will provide great security and prospect for our employees and customers, and look forward to working closely with the Tong team to ensure a smooth transition and handover. I would very much like to thank our staff and customers for their loyalty and support over the years."
Tong added: "The completion of the purchase has fallen just ahead of one of our key industry events, the BP2023 British Potato event in Harrogate, and we look forward to welcoming existing and new customers to our outdoor stands, as well as the Tong stand in Hall 1."