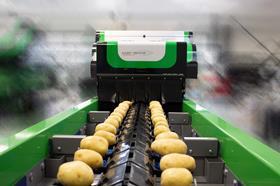 Leading potato and vegetable handling equipment manufacturer, and sponsor of the BP2021 British Potato exhibition, Tong Engineering, will be showcasing equipment advances from field to pack, as well as the latest technologies in automation and optical sorting, at the UK's largest biannual potato event in November.
Exhibiting in Hall 2 at the Yorkshire Event Centre in Harrogate, Tong is welcoming visitors to the company's stand to discuss how the latest equipment developments can address the real challenges currently facing vegetable producers, by minimising labour requirements whilst maximising capacity and yield.
"Since the industry last met at the British Potato event the handling requirements of growers and fresh-pack companies have far from stood-still," says Edward Tong, managing director at Tong Engineering. "The priority for our customers to maintain efficiency at every stage of the vegetable handling process is greater than ever, and we have introduced several new product developments across our range during this time that are truly streamlining the potato handling process."
As part of the company's ongoing product development programme, advancements have been applied to its in-field, on-farm and packhouse solutions, including the launch of the new FieldLoad PRO mobile field-loader, MonstaFill high-capacity box filler and patented E-Tip all-electric box tipper, as well as design updates across its best-selling range of washing and polishing equipment.
"Optical sorting technologies are also progressing incredibly fast and are replacing manual sorting facilities more and more," says Edward. "Reducing the reliance on the workforce to achieve efficient grading and sorting is at the forefront of equipment upgrade projects large and small. We have seen significantly increased demand for handling solutions that integrate advanced vision grading systems, and a large number of our latest turnkey projects feature specialist optical sorting equipment."
"An exciting advancement for the potato industry is the new internal potato defect sorting capabilities of the MAF Pomone weight grader. We have been the UK distributor of MAF equipment for over 30 years and we are very excited to unveil the new MAF-exclusive, patented IDD8 internal defect sorting technology for potatoes at BP2021."
"The event is the perfect opportunity to meet with customers old and new to showcase the advanced handling solutions we offer as a dedicated manufacturing partner from post-harvest to pack. We very much welcome visitors to join us over the two-day event on our stand 211, to discuss their upcoming projects with a selection of tasteful appetisers and refreshments."