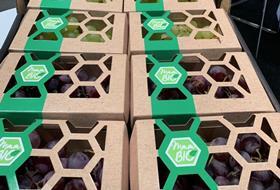 Total Produce's Dutch partner OTC Organics is rolling out a new recyclable carton designed for grape packaging.
One of the largest fresh produce companies in Europe, Total Produce stated the new packaging was a solution to one of the most "urgent" issues confronting the fresh produce sector.
Plastic pollution has dominated headlines in recent years, and the fresh produce industry has taken its share of criticism for the amount of packaging used in the supply chain.
Supermarkets, suppliers and foodservice have been attempting to cut back on plastic use while looking for alternatives that won't compromise the quality or shelf life of their products.
"Trying to meet demand for non-plastic packaging from our customers and prior to the start of the South African Organic Table grape season, we have introduced two types of recyclable carton table grape packaging," says Bart van der Vliet, sales & marketing manager OTC Organics.
"Many fruits and vegetables can be traded easily without packaging, this is more difficult for other products, like grapes. We all well know the picture of grapes in a plastic clamshell."
Van der Vliet said that OTC Organics decided they "need to change this" by introducing a plastic alternative for grapes.
"Together with all our stakeholders we recently organised a packaging seminar to exchange views and opinions, at our office in Dronten. One of the results of the seminar was the introduction of a carton for table grape packaging," he said.
"With that conclusion in mind, we have developed a box with fixed lid in our own brand MmmBIO, together with our packing partner Eurowest. This new packaging can be easily recycled after use, consisting of paper – what it sees as a modern step towards a plastic-free shelf.
The new carton comes as Total Produce announced it would also be carbon neutral for this year's Fruit Logistica conference in Berlin.
It's the second year in a row they have achieved carbon neutrality at the event, with Dole Food Company also joining the initiative.
Through Irish organisation Vita, Total Produce committed to invest in carbon credits to the value of the total tonnage of CO2 emissions they produce in attending Fruit Logistica.
Vita then funds projects to provide water pumps and stoves dedicated to bringing clean water to communities in Africa, while reducing wood burning, and water borne diseases.