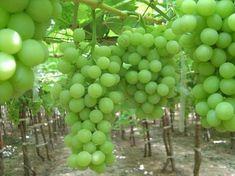 Tulpin Airmarketing Ltd, an airfreight agent specialising in perishable goods, said the first consignments of Egyptian grapes bound for the UK market landed at Ostend Airport in Belgium last week.
Some 16 tonnes of grapes, grown and exported by Belco, were unloaded from an EgyptAir flight from Cairo on May 24. Tulpin expects to receive total air shipments of Egyptian grapes of approximately 400t this season.
"Normally Egyptian grapes only arrive in the first week of June, but these have been grown under plastic cover which gives a time advantage of about 14 days," Tulpin Airmarketing's manager, Alain Tulpin, explained.
"The Sugraone grapes are of excellent quality, nice formed bunches, AA size berries and a brix of 16," he added.
Belco is one of the leading exporters in Egypt and will export about 4,000t grapes from now to the middle of August. The company specialises in seedless grapes, mostly Superior and Red Flame and also later in the season, Thompson Seedless and Crimson Seedless.
Tulpin said more and more Egyptian exporters are opting to use his company to fly produce into Ostend. "Our services do go much further than those of a standard customs agent as we control the whole logistics chain from departure in Egypt until delivery to the depots of our customers in the UK. Defra inspection and customs clearance are performed in Ostend as well as preparing orders and planning the deliveries to UK supermarkets."
"Grapes arrive more quickly to customers in the UK via Ostend Airport, than if the same produce was landed at London Heathrow," he claimed.