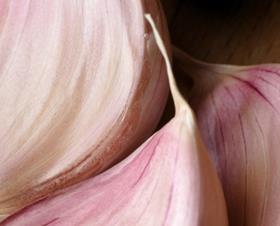 Choose life. Choose a job. Choose a career. Choose a family…" muses Ewan McGregor at the start of Trainspotting, facing up to life's modern choices.
Facing its own crossroads, Freshfields chose garlic. Already a successful berry and asparagus business since 2009, the Hereford growers went experimental, and like a tricky third album, sibling owners Paul and James Hawkins, with general manager Jim White, sought something different for their next act. In a British landscape with little commercial production of garlic, it's a step into the unknown, but the combination of growing nous, ambition, and no doubt some proper investment means Freshfields are well on their way to garlic nirvana.
Certainly, any garlic fan would already be there, standing among the pungent aromas of their brand new temperature-controlled storage space, possibly the only purpose-built garlic-curing facility in the UK. "We thought it had potential – a bit of a gut feel; it was just novel and we thought let's give it a go," says White.
The idea was seeded when nearby Welsh food processor Beacon Foods got in touch with Hawkins, in search of British garlic for their products. With a customer already lined up, it seemed a good fit, and the company embarked on a rare venture: a British garlic farm, setting up a two-hectare trial in the autumn of 2015.
"We got it badly wrong in the first year; we still laugh about it now," recalls White. "Between our first and second crop we improved by about 80 per cent. What we established from that was we were going to have to do it a lot better and actually invest in some equipment and plant a decent area." Thus a new joint venture between Freshfields and Beacon Foods was born, aligning a farm with a food processor.
A bit of garlic background: almost all supermarket garlic comes from Spain and China. In fact, garlic may be one of the most monopolised categories out there. Blessed with hotter and drier climates, Spain and China are able to produce garlic on such a scale, using their natural heat to dry and cure it, that northern countries haven't been able to compete. "We don't think we'll ever compete on price with Spanish imports. I think we're going to look at quality and flavour and try to differentiate on that basis. You're not going to compete against mainstream China," says Paul Hawkins.
Returning to autumn 2015, it quickly became apparent to White and Hawkins why it was so difficult to compete with the Spain/China duopoly. "The post-harvest process is very difficult to get right, made much more difficult by our climate. If you're in Spain, it's always 30 degrees, so it can cure naturally," says Hawkins.
In fact, half the cost of production is post-harvest, Hawkins adds. The process requires patience: after harvesting, the garlic is dried for one week to remove around 60 per cent of its moisture. It's then taken out for cleaning and grading, which requires intensive brushing off the outer layers and discolouration or stains to create the gleaming white bulbs shoppers expect from retailers. It's then sent back to be cured to remove further moisture, before going into cold storage at -2.8 °C, where they can be stored for six to seven months.
"The biggest issue is the root – the only way to get that off is to hand cut it. There's a lot of manual work getting it to a finished product from once it's dried," says Hawkins.
Making this process possible is the company's new storage facility, which boasts a computer-controlled temperature system and a network of air pumps, which channels air through boxes of garlic stacked up high throughout the facility. Built for this season, White says it's a big step on the path to bigger things.
"What we're trying to do is get a system where it's commercially scalable. If a retailer came on board and said 'we want it to be our main supply of garlic', we've got to know that everything we're doing works. We need to know that we have the blueprint that we can roll out across the other sites."
The company has steadily expanded its production since 2015's growing pains, with eight hectares producing 80 tonnes in 2017, and 120t forecast this year. Despite the hard work, the product is high quality, boasting giant bulbs packed with succulent cloves.
Currently, the garlic is sold in farm shops and delis across the country, thanks to a partnership signed with the Isle of Wight-based The Garlic Farm, as well as going to processors such as Beacon Foods. But retailers are also taking note, with one now close to signing up with the Hereford growers, according to White.
"We've done quite a lot of shows with it," says Hawkins. "The feedback from people who cook is awesome. We picked up the Isle of White company who are distributing into farm shops and delis and we are hoping to have the first retailer on board soon."
With just four commercial growers in the UK, including Freshfields, there is massive potential in the crop. Could it herald a garlic boom in the UK?
"It grows well in the UK, but the number of people I've met who said 'I tried growing garlic', but then didn't pursue it, is phenomenal, and over the years we've discovered why," opines Hawkins.
White suggests the company is not far off matching the Spanish for cost, however, and with Brexit inching closer (for the second time) who knows what added-value homegrown garlic could have after October.
"We might get to the point when we can compete with the Spanish if we develop our yields another 10 per cent. If we develop our gradeout 10 per cent lower, then actually we can compete, and that will be the interesting thing. What might happen with the euro, which is affecting the import cost? If there are tariffs after Brexit, will that benefit the UK supply of garlic?"