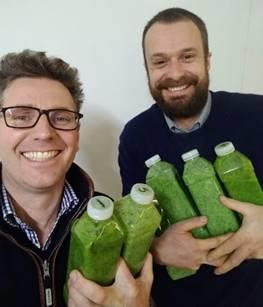 The Watercress Company is trialling a nutrient-rich watercress soup with the NHS to help boost patient nutrition and reduce food waste.
Made exclusively from British ingredients, the soup is based around UK-grown winter watercress which is not currently sold as the leaf is larger, with thicker stems, but is perfect for soup, according to The Watercress Company (TWC).
The ultimate aim is for the fresh soup to be frozen into blocks with all the other ingredients, to which hot water simply needs to be added before blending, making the meal preparation simple for the catering teams.This way a consistent product can be available all year round.
The Dorset-based business is testing its new soup at Dorset County Hospital, and if the trial is successful the company hopes to make the soup available across the NHS.
Tom Amery, managing director of the Watercress Company said: "The importance of nutritious food for hospital patients has been discussed for years, with chefs such as Lloyd Grossman, Albert Roux, James Martin and, most recently, Prue Leith all supporting campaigns for its improvement.
"However, it has always proved difficult. We have developed a recipe for a nutrient dense watercress soup with high energy and protein levels that is rich in vitamins and minerals - literally what the doctor ordered!
"It is easy to consume, tasty and, most importantly, it can be made within the existing financial constraints of the current daily meal budget provided to hospital catering teams.Furthermore, we aim to provide a longer term format that can be delivered throughout the NHS and be reliably consistent in nutrition, energy and protein."
A presentation on 4th February will launch the soup and explain to hospital staff and other attendees exactly why watercress is so good for everyone, whatever their age or state of health, but especially for hospital patients.
The soup is also in line with the NHS' preference for a 'first food approach', encouraging the consumption of actual food rather than supplements, which is not only better for health, but could potentially make cost savings for the hospital.
Amery said TWC spent time consulting leading professionals across the industry to ensure their support.
One such expert, Barbara Bray MBE said:"It's no easy task for the NHS to look after and feed a vulnerable population with a low budget. This collaboration between TWC and Dorset County Hospital is great to see as it provides a nutrient dense option which supports the needs of so many patients.It would be fantastic to see this extended across the health service, where so many will benefit.'
The soup project is just the latest collaboration between The Watercress Company and Dorset County Hospital.In 2012 a novel initiative was launched donating free watercress, helping the catering team deliver a nutrient boost for the meals being prepared for patients, staff and visitors.
This project expanded in 2016 with a trial to provide watercress smoothies for the patients of Fortuneswell Ward (Oncology); over 10,000 smoothies were supplied.
In January 2020, a watercress grab-a-bag fridge was installed for anyone passing through Damers Restaurant to pick up a free bag of nutrient dense watercress, together with a range of information aimed at providing awareness as to how watercress can support health.
Chief Executive of Dorset County Hospital Patricia Miller said: "This is a very exciting project for our Trust to be involved in and we are looking forward to our ongoing partnership with The Watercress Company.
"They have recently installed a free watercress fridge in our restaurant which is proving very popular with patients, staffs and visitors to the hospital."