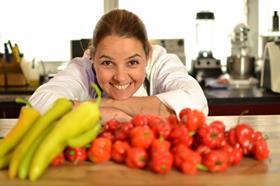 Reynolds development chef Diane Camp has been named Development Chef of the Year 2016 at a ceremony in central London.
Camp, who has worked with Reynolds for the last four years, was presented with the accolade by the Craft Guild of Chefs Awards ceremony at Lancaster Hotel, London, last night (1 June).
The awards recognise winners from across the sector in 16 categories from pubs to fine dining.
The Development Chef Award is open to chefs that are involved in the creation and development of food products for the retail and foodservice industry, a recognise the increasing importance of this sector of the chef's profession.
"Being presented with the award from The Craft Guild of Chefs is a tremendous honour and the highest accolade I have received in my professional career," said Camp. "This would not be possible without the mentoring and guidance of Ian Nottage, as well as the continued support of the Reynolds management team, for which I am very grateful for. Thanks also to my customers whose experience is at the centre of everything we do at Reynolds. Here's to our next exciting innovation!"
Reynolds MD Tony Reynolds said: "Diane is an exceptionally skilled development chef, and she thoroughly deserves the recognition this award brings. The whole team are very proud of her. We now have one eye on the National Chef of the Year competition, which Diane is also nominated for. Good luck Diane!"
Elsewhere, Bakkavor senior development chef Glyn Yarnall has been named as a finalist in the GroceryAid Cook of the Year Competition 2016, a competition to recognise excellence in chefing within the grocery industry.
Candidates had to impress the judges by creating a main seasonal dish in less than two hours. Six semi-finalists, which also included Bakkavor's David Sargent, cooked for the elite panel of judges, before three were selected as finalists. The finals will be held at the L'Institut Paul Bocuse, in Lyon, in October, and judged by culinary legend Michel Roux OBE.
Bakkavor CEO Agust Gudmundsson, said: "Congratulations to Glyn and David for reaching the semi-finals of this year's GroceryAid Cook of the Year competition. Glyn and David perfectly demonstrate the talent we have within the company, and the range of skills and creativity that many of our employees exert in this exciting industry. We wish Glyn all the best for the final."