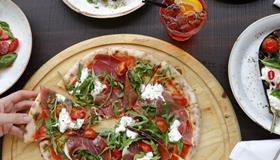 Fast-growing taxi service Uber has thrown its hat into the ring of new food delivery services with the launch of its app UberEATS.
The new service, which goes head to head with similar offerings such as Deliveroo, was unveiled in London this week, and is touted as providing new options for both consumer and suppliers.
Using the same cashless concept as Uber's taxi service, UberEATS links consumers with over 150 top restaurants including The Good Life Eatery, Hotbox, Chilango, Pho, Comptoir Libanais and Snog.
With delivery slots of 30 minutes, consumers can check out with a tap and track their order as it travels across London.
Restaurants and restaurant suppliers can use Uber's delivery network to expand their businesses and reach a new network of potential customers, Uber said.
The service will initially be available in Central London from 11am to 11pm, seven days a week – with no minimum order size and free delivery for the first month. Expansion to other areas of the UK is planned for the coming weeks.
Co-founder of Mexican restaurant Chilango, Eric Partaker, said: "We're thrilled to be partnering with UberEATS. With the tap of a button existing guests and newbies alike can finally get our award-winning burritos and other Mexican fare delivered straight to their doors.
"The really exciting thing is to be able to break free from the constraints of our restaurants, so we can reach new people, create more raving fans, and further grow our business. And what's not to love about that?"
Vietnamese chain Pho's Libby Andrews said Uber has nearly two million users in London, offering a vast new customer base. "We're excited to see the impact UberEATS will have on our business," she said.