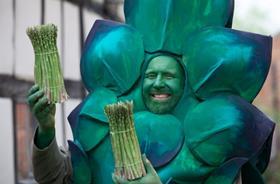 A fixture of UK seasonal veg calender, the British Asparagus Festival went online today as coronavirus continues to prevent gatherings during lockdown.
The historic Fleece Inn pub in the Vale of Evesham, Worcestershire, is hosting a virtual National Asparagus Day to celebrate the April 23 date on which the first spears are traditionally cut.
Nigel Smith, chairman of the British Asparagus Festival and landlord of the Fleece Inn, said: "The fact that we are not able to celebrate in the same place, doesn't stop us celebrating the beauty of asparagus.
"It's an amazing vegetable, and it's really important to the economy in this part of the world. The Vale of Evesham is a special place and it's only really - despite some early and late asparagus - in this eight-week window that you can get UK asparagus.
"Over the years we have celebrated with various degrees of madness, delivering asparagus to the Queen, and even the EU Parliament when it gained PGI status. We want to keep that going and we hope it will brighten peoples' day."
A fixture of the festival, Gus the asparagus, posted a video online to mark the occasion. He told viewers: "Sadly this year I am tucked away in my aspara-bed. I know you are all doing the same."
Gus thanked NHS staff and key workers, "from the bottom of his aspara-heart" for their incredible efforts in saving lives and fighting the spread of coronavirus.
Jemima Packington, aka The Asparamancer, who predicted the Royal Birth, 'Megxit', Brexit and Boris Johnson becoming Prime Minister, also offered to do online Asparamancy.
"Viewers can nip out and get themselves some asparagus and cast it on a flat surface, and then send the picture in, and I can do predictions for them," Packington said.
"We don't want carrots, we don't want broccoli or green beans, it's got be grass!"
Grower Julian Mead, of Fiveways Fruit Farm, Essex, says the season has started well despite coronavirus causing small disruption in demand.
"At the moment we're seeing good demand for asparagus, we're selling everything we touch. In some of our markets we've had a little bit of disruption with the restaurants closing."
Mead says the business hasn't struggled with production despite sweeping travel restriction measures hitting the labour supply this year.
"I think it depends on the farm and what you grow. We have enough labour but it may change as we start the strawberry season."
He says this year's crop is looking good, but can't tell yet if it will live up to last year's high quality.
"It's very difficult to tell with asparagus as the engine of the plant is below ground, it's not quite clear what you're going to get. Last year was a great year. This crop is looking on a par with other years."