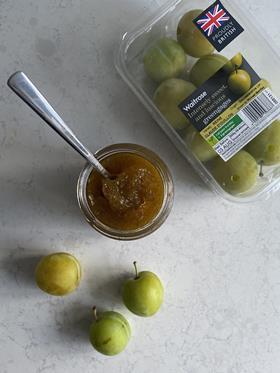 The UK's streak of fair weather has seen homegrown greengages arrive a week earlier than usual this year.
Waitrose buyers say this year has also yielded a bumper crop.
Popular as a fresh or processed product, Waitrose revealed that lockdown has prompted a surge in online searches for greengage jam recipes, up 134 per cent.
Waitrose greengages are grown in Gloucestershire by Michael Bentley who has supplied fruit to the supermarket for over 30 years.
Green in colour, greengages are a member of the plum family and are good for cooking with in both sweet dishes as well as savoury ones, such as chutneys.
Tim Stevens, Waitrose fruit buyer said: 'Our British greengages have a loyal following from those who have discovered the treats these little green heritage plums offer.
"Their naturally high pectin levels combined with the fact that the season is short, but sweet, means they are a jam makers delight with those in the know able to enjoy the fruits of their labour throughout the year.'