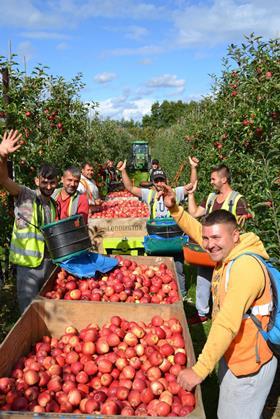 The UK fresh produce sector is wracked with concern over access to seasonal workers just three months before the fruit and veg season begins to ramp up.
In December, Westminster announced the size of the UK's seasonal agricultural workers scheme pilot (SAWS) would be trebled to 30,000 for the 2021 season – despite the industry calling for at least 70,000 permits. Since then, Defra has begun the process of appointing two additional contractors to run the expanded scheme alongside existing firms Pro-force and Concordia.
But chair of the NFU's horticulture and potatoes board, Ali Capper, told The Grocer that the timeline for the appointments was causing "nervousness" because it didn't give the new operators very long to bring permitted workers in.
Under Defra's current timetable, the new SAWS operators will be appointed by 12 February but will then have to wait until 19 March to have their plans approved or rejected by the Home Office, Capper told The Grocer. It may then take until June for these firms to be licensed – the peak of the UK harvest season.
In addition to concerns over the SAWs timetable, some UK growers feel the government's seasonal worker scheme does not provide enough certainty for them to invest in future production.
"The government is making its mind up year by year about the seasonal worker scheme, and you can't make planting decisions on that basis. The current situation is very negative for longer term investment," Stephen Taylor, managing director of Winterwood Farms – a leading blueberry supplier – told the FPJ. "We have been actively taking our UK blueberry crops out of the ground since the Brexit vote."
Meanwhile, CEO of major UK fresh produce supplier Fresca Group, Martyn Fletcher, said that while he welcomed the expansion of the SAWs scheme, it was unlikely to solve the challenge of staffing all Fresca's operations.
"We're not alone, industries like hospitality, healthcare, construction, are facing a similar crisis, I think. But we are undoubtedly left with what could be an expensive challenge in trying to keep our businesses staffed and competitive going forward," he told FPJ.
On top of that, the UK labour shortage could open the door to potential worker exploitation, he warned. "Those that have a criminal mind tend to take advantage of these situations. Our concern is that those determined to exploit illegal workers will seek opportunities out of these circumstances," he said.
To combat this threat, Fletcher said the whole industry should invest more resources to help identify where victims of modern slavery could take place, and that it mustn't be afraid of speaking out against this problem to make sure everyone, including government, really understands what can be done.
"We must continue to offer our full support to the GLAA (the Gangmasters and Labour Abuse Authority) to ensure that wherever we can, we are working to eliminate opportunities for that exploitation to take place," Fletcher said. "That is going to be a challenge because the lack of availability of workers does give rise to opportunities for criminals to take a bigger hold."