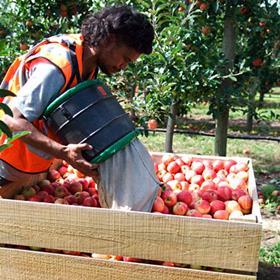 The UK's new points-based immigration policy is "not fit for agriculture" according to NFU vice president Tom Bradshaw.
Giving evidence at a parliamentary committee on labour in the food supply chain, Bradshaw warned MPs that agriculture businesses are in "desperate" need of confidence, as Britain ticks towards the end of the Brexit transition period with no policy on foreign agriculture workers, beyond a small pilot scheme.
With over 90 per cent of the British seasonal agricultural workforce coming from Europe, a number shy of 80,000, Labour MP Barry Gardiner described the shortage facing businesses in the sector as "extremely disturbing".
Bradshaw said: "As we see the current immigration policy, unless we end up with a dramatically increased seasonal worker scheme or big changes in the youth mobility scheme or the shortage occupation list, we have a proposed immigration policy which is simply not fit for UK agriculture."
Home secretary Priti Patel unveiled the UK's new post-Brexit immigration policy in February this year, just as the coronavirus pandemic began to strike Europe.
The scheme proposes a minimum salary requirement of £25,600, alongside other skill requirements for any hopeful migrant worker in the UK. It's a number that puts the majority of workers involved in picking, packing and processing, well below the required threshold.
It also makes allowances for occupations deemed critical that face labour shortages, dubbed the Shortage Occupation List. Agricultural production, packing, or processing jobs do not feature on it.
Bradshaw said: "The Shortage Occupation List is going to be the critical area. Unless we see some agricultural and horticulture jobs reflected on that Shortage Occupation List which at the moment there aren't, then it's going to be very difficult, stroke impossible to achieve the points required."
Having endured labour shortages for several years, the impact of coronavirus couldn't come at a worse time, as growers also deal with increasing costs for static returns.
Bradshaw said that growers have managed to increase productivity in the past 20 years tenfold, "but they are still receiving the same price for a punnet of strawberries as they were 20 years ago".
Bradshaw continued: "Businesses are lacking confidence at the moment. They have seen costs increase up to 15 per cent due to coronavirus, whilst their competitors across the water have had bailout packages.
"Particularly if you look at the Dutch economy the horticulture business there had significant bailout packages because of the pandemic. We have a sector that is normally very confident about the future that are thinking 'what does the future look like for us?' And I think what that sector needs desperately is confidence
"The way we give them confidence is to give them assurances around next years' seasonal agriculture workers and what that looks like, and assurances around developing the youth mobility scheme that brings in the whole of Europe because at the moment it's not included, and that would be a big change which could hopefully give us a bigger pool of people to recruit from."