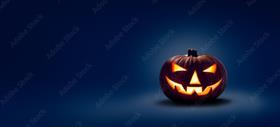 A bumper pumpkin harvest for this year's Halloween is under threat because of an expected shortage of the crop caused by a combination of poor August weather and lack of HGV drivers and pickers, reports iNews.
According to the report, farmers and wholesale vegetable suppliers are warning that a lack of sunlight and warmth last month has meant the crop is failing to ripen in the fields, while a giant-pumpkin show has been cancelled due to poor harvest.
Areas of the Midlands and southern England had between 65 and 70 per cent of the average sunshine for August, while nighttime temperatures failed to rise over 15C – one of the key conditions for allowing pumpkins to swell in size – for most of the month, the report said.
The dull chilly weather has compounded an already difficult period for the wider food production industry, with the ongoing shortage of HGV drivers and fruit and vegetable pickers hitting harvest and supply chains.
According to iNews, Lyburn Farm in Salisbury, one of the leading wholesale suppliers of Halloween pumpkins, sent a message to its customers saying: "We are not taking any more orders for the 2021 season for the time being as we are over subscribed and not even running a waiting list.
"The crop is now looking good but slow to ripen due to lack of sunshine and heat, as a result they are still looking very green.Transport is clearly going to be another issue as will the harvesting."
Richard Simkin of Essington Farm near Wolverhampton told iNews his crop of 30,000 pumpkin plants would not be affected by supply chain issues because he runs a pick-your-own business and sells directly to customers at the farm shop. But he said the poor weather was still casting doubts over a bumper harvest by 31 October.