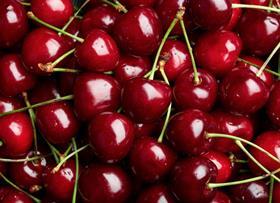 Supermarkets are preparing for a bumper crop of cherries to hit their shelves after recent hot weather in the UK, the BBC has reported.
The season had been put in doubt by a cold and wet spring but high temperatures in July mean growers are enjoying high yields of extra-sweet cherries.
This year's British crop is expected to be double the size of the 2018 harvest at just over 6,000 tonnes.
Lee Turner of Kent-based FGA Farming told the BBC the UK was set for an "abundance of super-sweet cherries", and Tesco is reported to have taken an extra 115 tonnes of the fruit to avoid waste.
Most of the glut has come from Kent, Britain's cherry-growing heartland, which saw high temperatures throughout July, with heat health alerts from Public Health England.
Turner explained that the cold start to the season in April and May meant trees were dormant for longer, allowing them to build up the energy required to produce the super-sweet, high-quality fruit now being harvested.