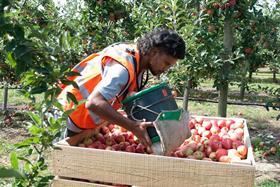 Britain's topfruit industry has launched its own recruitment site calling on Brits who have lost their jobs due to the coronavirus crisis to apply for pruning and picking jobs.
With orchard picking operations set to begin on August, topfruit growers across the country are having to act fast. Huge concerns remain about agricultural labour shortages due to worldwide travel restrictions hitting the predominantly European labour supply to British farms.
According to British Apples & Pears over11 million people could end up furloughed or unemployed over the next three monthsand, at the same time,the fruit picking industryisfacing severestaffing shortages.
The organisation estimates that10,000pickingjobswill beavailablein its members'orchardsfrom August to October.Therewill be a much smaller number ofjobsavailablein June forapple thinningand summer pruningin orchards that are critical to ensuring a quality harvest later in the year.
Ali Capper,executivechair of British Apples & Pears, said: "It's never been more importanttodeliver healthy British produce to consumers.
'Our newly launched recruitment campaign is designed toput people looking for work in direct touch with apple and pear growers who need help getting our delicious fruit from the trees to our tables.
'Fruit pickingis hard work, but it'srewardingknowing that you're doing a valued jobandit's also a great time to be out in the beautiful British countryside."
Harvest workers are paid at the national living wage and on many farms a productivity bonus is paidtoworkersbased on the quantity and quality of their picking.
The British Apples & Pearsrecruitmentcampaignwill include targeting people who had previously workedin the hospitality industryand havelost their jobs due to COVID-19,as well asuniversity studentsand workers from other sectors.
To find out more about theapple and pear orchard jobopportunities,visit:https://britishapplesandpears.co.uk/job/