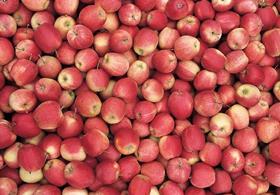 Volumes of British apples and pears look set to fall below the hoped-for growth target this year after spring frosts and hail damaged much of the crop.
Trade group British Apples and Pears said the industry was aiming to see volume growth in 2020 as UK growers look to reach 60 per cent market share of topfruit sales in the UK.
In the last decade, British growers have invested £120 million in new orchards and technologies as well as funding significant research and development, to continue the strong growth in volume and quality.
However, this year's challenging weather conditions have meant that the true potential of this investment will not yet be delivered, leaving growers with additional costs, but an overall volume similar to last season.
As reported in previous updates, growers had a challengingstart to the season with a wet winter followed by late frosts and hail in some areas. The warm weather growers experienced during pollination will however help to produce exceptional taste and flavour.
The industry hopes that retailers will support grower's efforts and amend specifications to enable a greater proportion of large-sized or superficial frost or hail damaged fruits to be included in this season's packs.
This support, along with in-store activity to launch the British apple and pear season with a fanfare from Monday 5th October 2020, will enable everyone to meet the British consumer's desire for delicious, home-grown apples and pears.
Ali Capper, Executive Chair British Apples & Pears comments:"This year has posed numerous challenges for our industry, and weather conditions in particular have been problematic for our crops and our growth trajectory.
"But thanks to the collective efforts of our growers and the warmer weather during pollination we're confident that consumers will find fruit with great flavour. We're happy to share these forecasts with our retail partners and other stakeholders, so everyone can make informed decisions and better manage their sales in a responsible manner in accordance with market conditions. We will continue this open dialogue as we gear up for the start of the season in October."