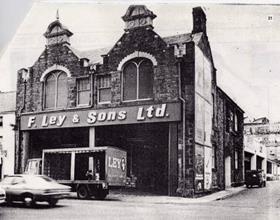 Britain's oldest family-owned wholesaler will be moving to new premises after 35 years in Swansea city centre.
Fred Ley & Sons has been trading since 1830 providing fresh fruit and veg across southern Wales to customers including schools, hospitals and restaurants.
The business pioneered early potato imports from Jersey, Brittany and Ireland.
Director Tim Ley said it was time for the company to move however, after continuing development in Swansea city centre made fresh produce trading increasingly difficult.
"We're moving in two weeks from the building we've been in since 1984. What's happening is we're in the town centre where the old fruit and veg market was and they're developing the area so it's a logistical issue for us."
The company will take up new premises in Fforestfach just outside of Swansea.
Ley says business for the storied trader is still going well with new category booms reflecting the more adventurous culinary tastes of Britain.
"Business is steady, we have had the avocado boom and things like sweet potatoes and butternut squashes have been doing well thanks to the vegetarian and vegan trends.
"There's been a decline in potato sales for chip shops, but things like onions have boomed as they are being used in foods like curries."
Fred Ley & Sons is also now the last wholesaler in the region according to Ley: "There were 20 wholesalers when I joined and now we're the only one, we've seen them all off."