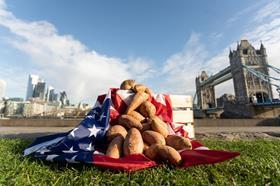 A new US sweet potato campaign is hoping to boost sales in the UK next month.
The American Sweet Potato Marketing Institute, which promotes the farming and harvesting of US sweet potatoes, is predicting a good crop this year ahead of the annual International Sweet Potato Week promotion, with increased yields compared to last season.
International Sweet Potato Week will run from 1-11 April and aims to highlight the health benefits and broaden usage occasions, including snacking. Alongside activity in Germany, Benelux and France, the UK element of the campaign targets consumers with PR and social media activity, including recruiting food and health online influencers to reach shoppers nationwide and encourage creativity in the kitchen.
Sales of sweet potatoes are now worth £74 million annually in the UK, with the majority supplied from the US. Though household penetration is at 45 per cent, annual sales only make up 5.5 per cent of the total potato market in the UK. "The humble potato is always going to be popular as consumers look to it for convenience and ease," said a spokesperson for the American Sweet Potato Marketing Institute.
"But with all the advantages that the sweet potato has, there is potential for further market penetration if American producers can get out there and educate consumers about all the benefits. One of the biggest advantages is its adaptability – it's just as at home in a dessert as it is in a dinnertime dish."
Warm temperatures and long frost-free periods provide ideal conditions for the cultivation of sweet potatoes in the US and growers have invested heavily in storage and logistics to supply the UK with aromatic, tasty and nutritious sweet potatoes throughout the year.
The spokesperson added: "Demand for sweet potatoes has typically been higher in the winter months, but continued investment in the latest technologies means American farmers can offer buyers year-round availability with consistent quality. This means there has never been a better time to promote consumption in the UK. 62 per cent of British consumers intend to eat more plant-based foods, so this campaign is focused on encouraging shoppers to put more of America's great quality, nutritious and delicious sweet potatoes on their plates."