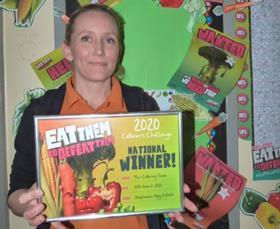 Contract caterer Elior and Stephenson Way Academy and Primary School have been named as the winners of ITV and Veg Power's Eat Them to Defeat Them school catering challenge.
The school catering challenge ran nationally and aimed to highlight the innovative and creative work that catering teams across the country are doing to help support this year's campaign.
Judges selected Stephenson Way's team for the way they captured the spirit of the campaign and involved so many children in their colourful and inspiring designs, with the school canteen transformed with a display of evil vegetables that the kids had to eat to defeat.
The Eat Them to Defeat Them campaign has been in 1,500 primary schools across the country in 2020 with a schools programme that was designed by educators, public health professionals, school caterers and the Veg Power Creative team in line with the curriculum and government healthy-eating guidelines.
During the schools closure due to Covid-19, fun and creative worksheets and art projects are being made available to download from the Eat them To Defeat them website.
The competition result came after February 2020 saw ITV and Veg Power launch a new and bigger incarnation of Eat Them to Defeat Them. This year, 6 x 10 second adverts are airing alongside the original ad on ITV, Channel 4 and Sky, with each advert challenging kids to eat that week's featured veg.
Earlier this year, ITV and Veg Power also published the evaluation report for 2019's Eat Them To Defeat Them campaign. "This report is just the beginning of our journey," said Veg Power chair Baroness Rosie Boycott. "One campaign is not going to change the world. But the positive results we have seen already are nothing short of an extraordinary start."
The campaign was seen by 38 million people on ITV and sales data from Pearl Metrics and Nielsen show there was a 2.3 per cent uplift in vegetable sales during the campaign. This helped generate an extra 17.7m unit sales of vegetables with a retail value of £16.2m.
In addition, Childwise and YouGov suggested that attitudes and behaviour among children and their parents have started to change. A YouGov survey of 1,000 children and their parents showed the advert was liked by 64 per cent of children aged between 6-11 years. Some 43 per cent of kids who saw the ad said they wanted to eat more vegetables that week.