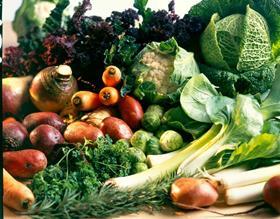 The charity behind the 'Rose Vouchers for Fruit & Veg' project has launched a Christmas appeal to raise £40,000 in one week.
All money collected will go directly to the Alexandra Rose Charity's voucher project – which operates in the London boroughs of Hammersmith and Fulham, Hackney and Lambeth – supporting families on low incomes to access fresh fruit and veg and give their children a healthy start.
Donations made between 1 and 8 December will be matched by The Patrick and Helena Frost Foundation and The Childhood Trust, so for every £1 donated, the charity will receive £2.
Donations can be madeherefrom midday on #GivingTuesday (1December), and the campaign will close at 12pm on Tuesday 8 December.
The Rose Vouchers for Fruit & Veg project gives families £3 of vouchers per child every week, or £6 if the child is under a year old. These vouchers can be redeemed for a wide selection of produce at local markets and independent greengrocers.
Jonathan Pauling, CEO at Alexandra Rose Charity, said: "We're delighted to have been chosen to take part in the Big Give's Christmas Challenge again this year.
"The first 1,001 days of a child's life are the most significant for their development and future life chances. We cannot allow the COVID crisis to ruin children's futures.
"Please consider a donation to our Christmas campaign to help us meet the rising need for our work in 2021 and ensure parents are able to provide the healthy meal choices their children need."
A spokesperson for the Alexandra Rose added: "This year has been tough on everyone, but for families with young children at risk of food poverty, it's been a real challenge.
"Many have lost income this year due to job loss or childcare issues and access to their support networks and services has been diminished due to the lockdown and social distancing measures.
"Demand for the Rose Vouchers for Fruit and Veg project has never been higher as families on low incomes struggle to afford healthy meals for their children."
To date, over 3,200 UK families have been supported to access fresh fruit and vegetables. Outside of London, the charity operates in areas of Liverpool and Barnsley.