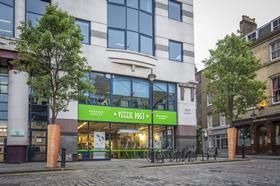 Despite predicting that its one-month Veggie Pret trial store would see sales drop by up to 30 per cent, the complete opposite - and then some - has instead happened.
After replacing its normal unit on Broadwick Street, Soho, London, on 1 June with a vegetarian food-only concept store, the chain has so far seen sales at the branch rocket by 70 per cent compared with the previous year.
The foodservice chain said the project was expected to be an investment, i.e. a loss maker, with Prêt staff instead focusing ondesigning and fine-tuning the recipes, bringing in small suppliers new to the chain, dressing up the store and training the staff.
But now they are even looking at extending the trial.
CEO Clive Schlee, said: 'The shop is packed and this is the first time I have seen customers in London sitting on the floor to eat their lunch. The energy of the shop is also quite remarkable; in fact a friend of mine likened it to a Beyoncé concert, although I've never been to one myself!
'A number of visitors to London have come to Soho specifically to see the shop. Customers are taking photos of the food, writing down the ingredients, and giving us messages of overwhelming support on the Hit the Spot/Lost the Plot noticeboard. A meat-free environment seems to generate an infectious positive energy.'
He added: 'Like all good ideas, Prêt's exclusively veggie shop seemed radical when we first thought of it, but it has come to feel very natural. Vegetarianism is becoming much more mainstream and of course the more vegetarian food is available and the more attractive the textures and flavours, the less of a sacrifice you have to make.
'The star ingredient so far is a Prêt favourite - the avocado. It seems avocado plays an important role in providing texture, the right kind of fat and colour. This plays to Prêt's strengths because, unlike most of our competitors, we can cut them up in the kitchens at the back of our shops.'
Schlee said he and his team are now debating what happens next with the concept store. 'The original idea was to close the shop after four weeks, but we are now inclined to keep it open slightly longer to see whether demand is still as strong once the initial hype dies down,' he said. 'There are some who would like to convert every fourth Prêt into a Veggie Prêt, and to explore its success in other markets too.'