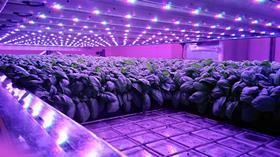 Scottish indoor agritech specialist Intelligent Growth Solutions (IGS) has secured a partnership to build the first retail park-based vertical farm in Germany.
Potager Farm, a subsidiary of the Dublin-based property investment firm Greenman Group, will run the farm in Berlin, supplying fresh produce to Greenman's retail centres. Its Greenman Open Fund currently has around 70 retail centres in Germany and is looking to expand into France.
IGS will install two 9m-high growth towers in the Berlin retail park, with the farm expected to be operational in the first quarter of 2023.
The first crops to be grown will include a selection of herbs (such as parsley, chives and basil) and leafy greens (such as rocket and mustard leaves),serving nearby supermarkets, retailers and restaurants. This will reduce food miles significantly.
The vertical farming process will use minimal water and zero pesticides, and water recycling will mean the only water leaving the farm is contained in the crops.
Potager Farm was launched in November 2019 as part of Greenman's mandate to reduce the environmental impact of its properties on surrounding areas by shortening supply chains. The business said its mission was "to create sustainable local food production systems, growing fresh, delicious food at reasonable prices".
Potager Farm MD Mario Gatineau also pointed out that IGS's modular towers will allow the business to scale up its vertical farming system "as and when required".
David Farquhar, CEO at IGS, added: "Potager Farm is a perfect example of how a business can bring sustainable, local food production systems to an urban setting, where the produce will be travelling, at maximum, only a kilometre or two before it reaches the supermarket or restaurant.
"Greenman Group's commitment to Potager Farm and developing sustainable sites such as this is commendable. They are pioneering innovation in the retail sector right across Germany."