British tech business will promote vertical farming as a solution to environmental challenges at COP28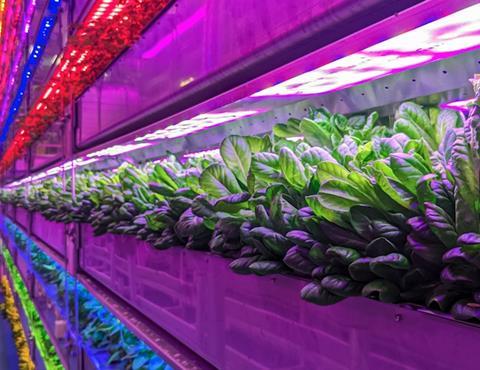 British vertical farming tech business Vertical Future (VF) has entered into a strategic partnership with the World Green Economy Organisation (WGEO) to further their mutual climate-critical aims and achieve their aligned sustainability goals.
WGEO was born in response to calls by the international community for a holistic approach to spur progress on how and why a green economy is the world's best route towards a safe and prosperous future.
VF and WGEO begin their multi-year partnership with a collaboration at COP28 in Dubai later this month. They aim to showcase the benefits that advanced vertical farming systems and data can bring to the global fight against climate change, and to highlight the need to improve food security, particularly in regions worst affected by climate change.
VF will appear in the WGEO Pavilion in the conference's Blue Zone, across from the United Nations Framework Convention on Climate Change (UNFCCC) Offices. The Blue Zone is only open to UNFCCC-accredited participants such as parties, world leaders, and media, and attracts a higher calibre of decision-makers, according to VF.
WGEO will present VF as a model technological innovator capable of helping the organisation achieve its stated aims of bringing holistic solutions to climate change to key stakeholders by highlighting the development opportunities it brings.
This will include WGEO providing VF with a platform to deliver remarks to delegates on two of COP28's thematic days: Nature, Land Use and Oceans Day on 9 December, and Food, Agriculture and Water Day on 10 December.
Jamie Burrows, founder and CEO of Vertical Future, said: "We are thrilled to partner with the World Green Economy Organisation. It is important to work with organisations who share in our goals and further, attending COP28 together ensures that Vertical Future's message is heard on a global stage.
"Adopting vertical farming is key to safeguarding global food security by producing food with minimal water, energy, fertiliser, and land use. This year's venue for COP in the UAE is particularly significant for Vertical Future, as the MENA region has an acute need for long-term sustainable vertical farming solutions."