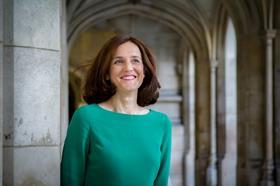 Theresa Villiers has assured British farmers that UK food quality standards will not be lowered in future trade negotiations following Brexit.
Addressing the Oxford Farming Conference today, the Defra secretary received a timely reminder of the scepticism her government faces, after the several hundred-strong audience were asked for a show of hands if they trusted the government in trade negotiations to protect their interests, no-one raised their arm.
It was a humorous if sobering recognition of the challenge Boris Johnson and his cabinet faces in sticking up for agricultural interests, which are often the cornerstone of trade negotiations.
Villiers insisted however that the UK can "maintain and enhance its standards" in seeking new trading partnerships post Brexit.
"Please be reassured as our manifesto says, and as the Prime Minister said, we will not imperil our domestic reputation built on quality, and grounded in our shared national values. We will not dilute our strong environmental protections or food safety and animal welfare."
Villiers also revealed the new Agriculture Bill would return to parliament in the next two weeks with the Environment Bill "due to be reintroduced very soon", which will shake up financial incentives for British farmers, with payments and grants given for good environmental practise.
She said that the new Agriculture Bill had also been updated since its last iteration with a "few additions" including a regular review of Britain's food security.
"Our ambition is to invest in a profitable, productive and sustainable sector using fewer inputs," Villiers said.
"Our updated Agriculture Bill will return to parliament this month, strengthen the farmgate, and improve transparency through data. We want greater fairness in a complex supply chain where financial returns can be unevenly distributed."
With the UK now set to pull out of the EU following the Conservative Party's overwhelming victory in the last general election, attention will turn to how the country re-establishes trade as a lone nation.
Questions at the Conference from the audience and press were dominated by concerns over whether UK agriculture would be sacrificed in trade negotiations with countries like the US, which could undercut domestic produce with cheaper products.
Villiers said the government had an "armoury of tools" to ensure that doesn't happen, including placing tariffs on food imports.
She reiterated that the government would "walk away" from any deal that did not suit UK interests.
Villiers also committed to the Conservative manifesto policy of raising the Seasonal Agricultural Workers Scheme to 10,000 workers, while admitting that the points-based immigration system the Home Office will introduce after Brexit, will "need to recognise and cater to the needs of the food and farming sector".