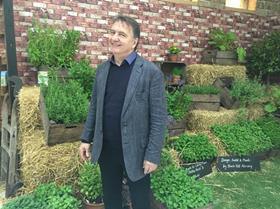 Vitacress Herbs supplied 60 pots of fresh living herbs including rosemary, basil and mint for the RHS Malvern Spring Festival 2015'sSpring Festival Atrium.
The event was attended by 10,000 visitors and two-star Michelin chef Raymond Blanc. It ran from 7-10 May.
Blanc, who has a passion for growing and cooking seasonal produce, and grows 70 varieties of herbs at the infamous Oxfordshire restaurant Le Manoir aux Quat Saison, said: "Fresh herbs are a little bit of magic in your dish, whether it's chive, tarragon or lime leaves.
'A simple plain salad for example can be transformed in minutes and is enlivened by just adding a sprinkling of fresh basil leaf, and with a nice Pinot Noir it would be perfect.'

Taking part in the Malvern Festival is part of Vitacress Herbs' ongoing consumer campaign to try and make fresh herbs an essential modern day kitchen ingredient.