UK-first product launch is offering Fairtrade premium to coconut growers in Sri Lanka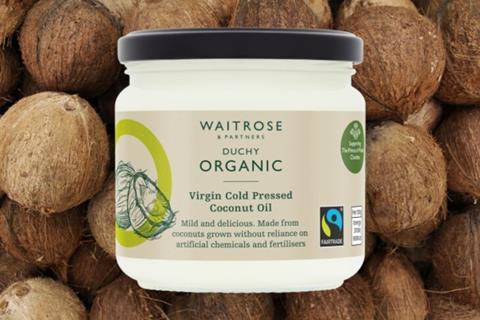 Waitrose is claiming a UK first by launching a new own-label, organic and Fairtrade coconut oil.
The coconut oil has been produced by the Sonmic Organic and Natural Farmers' Association (SONFA). They are a small producer organisation based in Sri Lanka, who prioritise organic farming with a strong focus on protecting the environment.
Fairtrade works with the coconut farmers to ensure they receive a fair price for their crops, and the Fairtrade producer networks offer farmers training on environmentally friendly pest control, biodiversity and sustainable agriculture.
Waitrose buyer Tom Shiel said: "We are proud to be the first supermarket to launch a 100 per cent Fairtrade own-label Coconut Oil. Alongside great quality and taste, the product supports the Sri Lankan farmers who produce the coconut oil to invest in their farms, communities and protect their environment."
Kerrina Thorogood, partnerships director at the Fairtrade Foundation, added: "We applaud Waitrose and SONFA for their collaborative effort to bring this brilliant new Fairtrade product to UK supermarket shelves.
"Thanks to the Fairtrade premiums that farmers receive for their certified products, SONFA have completed projects such as repairing the village's community centre, which was also a pre-school for the farmers' children. Previously the children weren't able to attend classes on rainy days due to poor insulation and leaks.
"However, the building and school equipment have now been renovated, and they can afford to pay the salary of the pre-school teacher. We're delighted that Waitrose's new partnership with SONFA will allow them to contribute to this vital work."