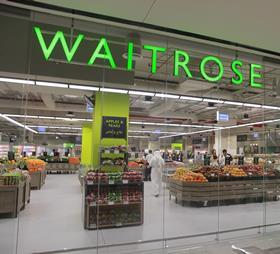 Waitrose has opened one new store and confirmed plans for another in the UAE.
The first new store, which will be operated by Fine Fare Food Market, opened in in Abu Dhabi on 17 October at The Galleria Mall on Al Marayah Island.
Employing 60 people, it is situated in a new extension to the mall, which houses a collection of international fashion and beauty brands.
By the end of the year the British retailer will open another store on The Palm in Dubai as part of the opening of the new Nakheel Mall.
This will be the retailer's first opening on the Palm, and it will become the biggest supermarket on the man-made island, employing 80 people.
The new shops will take the total number of Waitrose stores in the Middle East to 10 since opening its first shop outside the UK in Dubai in November 2008.
Customers will be able to choose from its essential Waitrose and Waitrose Duchy Organic brands, as well as the refreshed Waitrose & Partners No. 1 range, which is available in the UAE for the first time.
The shops will offer a wide range of Waitrose products, fresh fruit and vegetables, fresh meat, bakery, delicatessen, frozen and non-food lines.
Barry Delehanty, head of B2B growth and development at Waitrose & Partners, said:'We're incredibly proud that the quality of our products and the trust in our brand continues to appeal to the international market.'