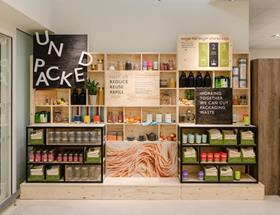 Waitrose is expanding its packaging-free "refillable" zones with the concept launching in its Abingdon store today.
They Abbey Close shop in Oxfordshire will be the retailer's third store in the county to launch Waitrose Unpacked, where customers can choose from a range of packaging-free products.
The trial will test how willing customers are to embrace packaging-free loose items, saving hundreds of tonnes of unnecessary plastic.
The refillable zone will include dispensers for dried products, frozen "pick and mix" fruits, coffee, wine and beer refills.
The frozen fruit selection includes mangos, strawberries, blueberries, cherries, pineapple and raspberries; all packaging free.
"Our Oxfordshire customers will have a big say in how we take the Unpacked concept forward and how our customers across the UK might shop in the future," said Chris Andrews, branch manager at Waitrose & Partners, Abingdon.
"It's still early days in Wallingford, but Botley Road has been a huge success so we're looking forward to seeing how shoppers in Abingdon now respond."
The supermarket first unveiled its Unpacked test in Oxford in June this year, proving popular with customers, with 90 per cent saying they would continue to shop unpacked.
In September Waitrose rolled out the scheme to Cheltenham, and Wallingford earlier this month.
Customers can share their thoughts via a feedback survey on Waitrose.com/Unpacked, and by using #WaitroseUnpacked on Twitter and Instagram.