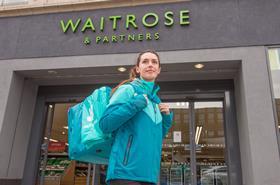 Waitrose has announced it is expanding its on-demand grocery trial with Deliveroo to 25 new shops across the UK following strong demand.
The original trial launched in September in five stores and by 20 October it will be available in a further 25 locations, taking the total to 30.This will include shops in Winchester, Hereford, Brighton, Glasgow and Solihull.
Some 3.1 million households across the UK will now be able to order from Waitrose on Deliveroo, with some deliveries made in less than 30 minutes.
Aldi is also currently trialling deliveries through Deliveroo and recently announced it isdoubling the size of its own trialto cover 42 stores in total.
Waitrose said its Deliveroo pilot is proving hugely popular, with sales from the original five shops growing continually since the launch. Half of orders were made by repeat customers.
The extended trial is expected to continue until the end of November in order to understand the potential for future growth. Waitrose is also in discussions with Deliveroo about joint community initiatives.
The retailer has also added an additional 150 products, including a wider range of ready meals and health and beauty lines, to the Deliveroo menu, taking the total number of available products to more than 650.
Lemons, avocados and strawberries have been the most popular items to date.
Deliveroo, which works with 44,000 restaurants and 35,000 riders in the UK, has seen rapid growth and expansion in on-demand convenience and grocery delivery in recent months and is keen to build on this momentum.
The Deliveroo service complements Waitrose's two-hour home delivery service,Waitrose Rapid, which now has over 37,000 customers, a fourfold increase compared to before the pandemic.

Additionally,Waitrose.comprovides online access to a full-shop range and now offers over 190,000 weekly slots, compared to 60,000 before the pandemic, with plans underway to increase capacity to 250,000 weekly slots.
James Bailey, executive director for Waitrose, said:"This trial has made a very promising start in attracting customers to Waitrose through an entirely new channel – and it is already contributing to significant sales growth in all of the branches where it is up and running. We know that our customers are continually looking for more convenience and flexibility."

Enjoyed this free article from Fresh Produce Journal and its team of editors? Don't miss out on even more in-depth analysis, plus all the latest news from the fresh produce business. Subscribe now to theFresh Produce Journal.