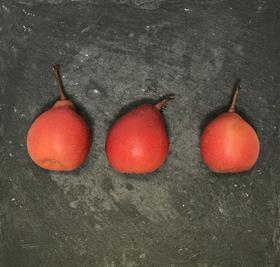 Waitrose are stocking a unique new pear variety for a "very short period of time" with a bright red skin.
Called Piqa Boo pears, the hybrid offspring of Chinese red pears, Japanese pears and European pears are created from the natural cross-breeding of different varieties.
Despite the bright red skin, the flesh and flavour is the same as traditional European pear, albeit with the texture of it's Asian counterparts.
Most European pears require exposure to cold temperatures after harvest followed by warm conditioning before they are ready to eat. When ripe they have a soft, buttery texture, but tend to have a short shelf life. Chinese and Japanees pears can be eaten from the tree, with crisp texture and milder flavours.
Greg Sehringer, Fruit Buyer at Waitrose & Partners comments: "These new Piqa Boo Pears combine the best traits of three different varieties to produce fruit that can be ready to eat at harvest. We hope our customers enjoy this interesting and limited edition pears, specially grown from our orchards in Kent."
The pears go on sale today priced at £2.00 for a pack of four.