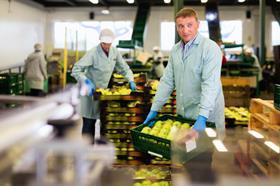 Food and hospitality bosses have warned MPs that there are "no guarantees" over Christmas deliveries and raised concerns about "acute" warehouse staffing issues ahead of the key festive period.
The warning came as members of the Department for Environment, Food and Rural Affairs select committee questioned industry bosses yesterday (9 November) over the impact of current labour shortages in the food sector and supply chain.
Kate Nicholls, chief executive of trade body UKHospitality told MPs, that the UK's hospitality sector is currently seeing 10 per cent vacancy rates, representing a shortage of around 200,000 staff across the UK.
She said firms in the sector have been hit by a "double whammy" of staff shortages within their own venues as well as shortages within their supply chains.
"In our supply chain, we are getting around 80 per cent fulfilment. So, 20 per cent of all products in all deliveries are not being delivered and we can't really say what it is,' Nicholls said.
"Our supply chain cannot give us any guarantees at the moment about Christmas deliveries and that everything will be delivered at the right place, at the right time and at the right price."
Meanwhile, Tom Southall, policy director at the Cold Chain Federation, warned that warehouse staff shortages are a cause of concern ahead of Christmas.
"It is particularly in warehousing that we are concerned about at the moment," he told the Evening Standard. "We are having reports from members that warehousing is becoming quite an acute issue in the run up to Christmas.
"It's a bit more tricky to understand shortage rates there, but between 10 per cent and 20 per cent are some of the figures we have been quoted there."
A critical shortage of warehouse space also risks causing further delays to Christmas stock already threatened by a growing backlog at UK container ports, a lack of lorry drivers and worker shortages, businesses have warned.
UK warehouse operators last month reported that the industry is "creaking at the seams" and said companies were running "dangerously" low on time to be ready for the busiest period of the year.
Warehouses have filled up rapidly thanks to a boom in online shopping during the pandemic, while businesses have responded to the chaos in global supply chains by building up stocks, putting further pressure on limited space.
Industry leaders told The Independent that a cumbersome planning system means they cannot build new warehouse space fast enough to keep up with demand.