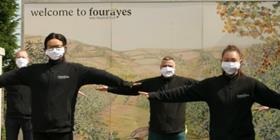 Fourayes managing director Phil Acock has praised his team's efforts instilling effective safety measures to prevent a single case of coronavirus on its operations.
Acock said a mixture of common sense and a dedicated 'Virus Infection Protection Executive Resource', shortened to VIPER, had prevented the virus hitting production at their Kent site.
The Bramley Apple grower and processor has had to furlough some staff to help achieve safe social distancing, as well as provide a range of protective equipment.
"I'm proud to say that, several months in, we still haven't had a single case of Covid-19 on the premises. Of course there are now government guidelines available so businesses can audit themselves against the recommended actions. But at the start there was only one type of guidance available: common sense. Thank goodness we had that in abundance," Acock reflected.
Acock said Fourayes were early adopters of protective measures, quickly recognising the huge threat the spread of coronavirus posed to everyday life.
And as with the daily government briefings, Acock said his VIPER team meets daily and has done so without missing a single working day since the outbreak began.
"VIPER got things happening straight away: we've risk-assessed jobs throughout the business, we've installed hand sanitisation stations throughout the offices and factory (we already wash our hands regularly, and for 30 seconds, because we're handling food). We've issued all staff with their own personal hand sanitisers," Acock said.
"We've employed two full-time cleaning staff to continuously sanitise all surfaces that come into human contact. We've put in place posters throughout the building to keep people sensibly distanced, installed one-way systems and reminded people of the reasons for these actions through 'toolbox talks' and via the canteen TV news screen.
"We've done a lot more of course: putting in place COVID-19 defensive processes and procedures, offering staff the choice of masks, snoods or face shields, furloughing to achieve better social distancing and much, much more."