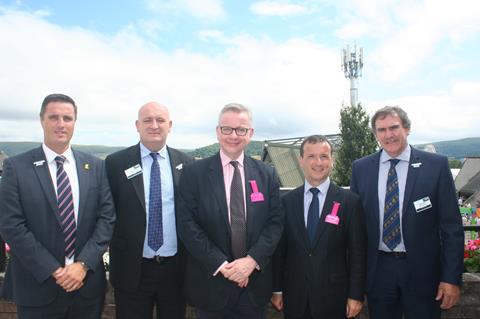 Comments from Defra secretary of state Michael Gove that it is 'extremely likely' the food industry will have tariff-free access to EU markets after Brexit have been welcomed by farmers.
Representatives of NFU Cymru met with Gove and secretary of state for Wales, Alun Cairns, at the Royal Welsh Show this week to discuss the major issues affecting the industry.
Despite the boost of Gove's words around trade, NFU Cymru did, however, stress that greater clarity is needed around the make-up of trade negotiations 'before Welsh farmers can truly step forward with confidence in making decisions that will affect their businesses in the future.'
NFU Cymru president John Davies said: "We cautiously welcome the comments made from Mr Gove yesterday and his optimism around future trading relationships with the EU. However, Welsh farmers will be waiting anxiously for more concrete assurances and clarity on these statements before pushing on with decisions that will influence the future direction of their businesses.
"Our meeting provided us with the opportunity to stress that farmers in Wales have a real hunger and desire to be the best in the world and they are up for this challenge provided they are given the right conditions to prosper in the future. If Mr Gove's positive comments at the Royal Welsh Show come to fruition that gives the industry a good platform to drive on and succeed.
"We also used the meeting to stress the importance of food production and the leading role that farmers in Wales play in feeding the nation and markets further afield. We consolidated this point by sharing the important figures from our recent YouGov survey of Welsh consumers, which shows that 83 per cent of the Welsh public acknowledge role as food producers and believe the industry should be supported for this service as part of any new agricultural policy in Wales. We were, therefore, pleased to hear Mr Gove state that he agreed with us that farmers and food businesses will be key to future success."
Following the meeting, Gove and Cairns signed the NFU Cymru #WeAreWelshFarming pledge board to show their support for Welsh farmers and wrote a statement stating what they associate with the agricultural industry in Wales. Gove wrote: 'The finest food from the most beautiful land', while Cairns said: 'The highest standards and the greatest diversity and the cleanest environment'.